4 Week Bikini Summer Workout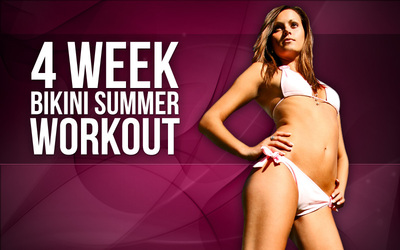 If you are interested in slipping on that Bikini this Summer This is your Workout
Summer or no summer, getting into a Bikini should not be a seasonal goal. However, the summer season is upon us and I know you are looking forward to cutting down on the clothes when you step outside in the sun and show off the hard work you put in the gym. This workout program will allow you to do just that.
How?
My approach with this workout was to focus on overall muscle tone specifically targeting the Butt and legs (as many women want those areas to be a focal point) and also help shed the body fat in and around these areas. The key with this program is that I focus on specific exercises that target not just these areas, but target EVERY area that you need to emphasize.
Step outside the Box
One of the concepts you must grasp is that you MUST do exercises that you may not be willing or used to doing. For example the Clean is a great exercise that put an overwhelming amount of strain on the entire body to complete the lift. This might not be the most conventional exercise to perform among others in the program, yet it is a PRIME example of things you must do in order to see success in the gym. After all, doing what you are USED to has not worked to well for certain women NOT achieving their goal.
You must be willing to do what you are not used to doing and concepts you are not or have not been willing to embrace until now.
Additional Tip
The workout below should be done with a strict adherence to Cardio acceleration/HIIT Training principles. What is that? It means that I want you to perform any one or combination of the movements below in between EVERY set of the entire workout below. For example. Is you have a Squat that you must do 3x10 listed, I want you to do cardio for 1 MINUTE in between each set. So do the first set of 10 squat's, and as soon as you are finished i want you to choose an exercise and perform it for 1 minute. As soon as you are finished, head righ back to the squat rack and conitue until finished. You will do this throughout every exercise and every set until the program is finished. Pick at random the exercises below to substitute in between the workout sets.
Now that you have a listign of the exercises to inject into each set of the workout below, all you must do is get going on the workout.
Here is the 4 week Bikini Ready Summer Workout
Week 1
Day 1
Day 2
Day 3
Day 4
Day 5
Week 2
Day 1
Day 2
Day 3
Day 4
Day 5
Week 3
Day 1
Day 2
Day 3
Day 4
Day 5
Week 4
Day 1
Day 2
Day 3
Day 4
Day 5
More Articles