4 Week Start to shed Fat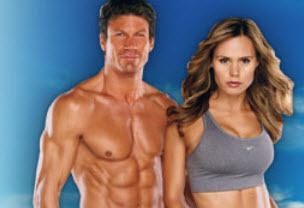 This is your 4 weeks Guide To building muscle to Get and Stay Lean
It seems that dropping body fat is a constant theme these days regardless of your goal. Obviously we all want to be as lean as possible regardless if our other goals are to gain strength, perform better, just tone, or simply look better naked. No matter what you goal is fat loss always comes long for the ride. Now, there are a multitude of ways that are at our disposal that we are constantly being sold on.The best way, the only way etc...
The truth of it is, is that it comes down to a simple fact that no matter what your other goal is you must follow some basic rules. Here are the secrets in a few simple steps.
Step 1 Build Muscle
In order to drop body fat, think of achieving that goal by Building up Muscle. Lets start this by defining what I mean. Building muscle again means that you are going to have your body recruit more muscle fibers than it currently has. Whatever starting point you are at TODAY the goal is to build from there. The Point at which you don't want to build anymore, then we start discussing how to sustain muscle.
Now I know this might be somewhat confusing, but think of it this way. If you work on building muscle and keep that your focal point everything else seems to fall into place. Your strength increases as a result as does your performance, muscle coordination, and in most cases acute joint pain and muscle aches. Again, Strength is varied based on your current strength level. Its not defined as a far as being able to bench press, squat or deadlift a certain amount that makes you strong. So if you build muscle you increase your strength among many other potential goals you might have. As you are working to build muscle and getting stronger chances are you are pushing yourself and exerting energy in order to do so. The amount of time and energy production needed to increase and build muscle will ultimately start the fat burning process.
Research shows the facts
A recent research study was conducted for a second time on original research that suggested that resistance training with weights for a 60 minute period with short rest periods can burn more calories than an hour of steady cardio. Once again the facts came out suggesting this original study to be quite accurate, however you can burn even more fat if you keep your heart rate at optimal levels by incorporating a combination short rest periods in between sets and also HIIT interval training.
The problem is that those short bouts of cardio is where some slack off and just go through the motions. To overcome this obstacle that I have even found myself doing, try jump roping for 1 minute as your cardio in between sets and or some small moderate intensity plyometric exercise such as short hops back and forth over a line or weight on the floor.
If your not a cardio fan or don't want to jump rope or perform plyos, then you should perform super, or tri sets with the majority of the exercises in your program
Step 2- Take a Look at your Nutrition
An easy way to look at your nutrition if you are not much of a nutritionist or have a good idea at what you are eating really comes down to some simple things to be aware of. Follow these rules and you should be within your range of your nutritional recommended meals and calories.
1.) Start eating 5 meals a day. Sounds like this would be the opposite of how to lose weight, but what happens is that you need to start out by consuming breakfast but in the amount that allows you to put something in your system to kick start your metabolism for the day. Much like a warm up set before hitting it hard in the gym, Breakfast actually means breaking the fast from not eating during your sleep time. From there, think of eating a breakfast, lunch, and dinner with 2 snacks in between. Typically you would want these snacks to come as a pre and post workout meal. Of course depending on your workout time during the day this can vary.
The major 3 Meals- Breakfast, lunch and dinner should not be the traditional full blown, stuff yourself until you cant move meals, but rather start eating just at the point until you are no longer hungry. Simple rule here to remember is to eat less, but eat often.
2.) Eat Like a Caveman- I am prepping a diet plan that represents this philosophy and its a basic rule. Start thinking as a caveman would and what they would have access to and eat it. So lets think like a caveman for a minute. They had more access to greens, fruit when it was in season, and meat and when they could kill it. So By trying to eat this way you will find yourself staying away from the foods you shouldn't be eating, processed and one hit wonder meals. In 1 week of following this tip and the 5 meal per day rule, your not only gonna look better, but you will feel better too.
The Nutrition Program

Meal 1 (Pre-Breakfast)
Calories
Protein (g)
Carbs (g)
Fat (g) Sodium (mg)
1 scoop Whey Protein
85
20
1
0
100
2 cups sliced watermelon
92
2
22
0
10
(Breakfast)
Calories
Protein (g)
Carbs (g)
Fat (g) Sodium (mg)
3 egg whites
51
12
0
0
165
1/4 med. onion
13
0
3
0
1
1 cup chopped broccoli
31
3
6
0
30
1 slice reduced-fat American cheese
70
5
1
5
310
1cups cooked oatmeal
194
6

25

2

4
Meal 2 (Late-Morning Snack)
Calories
Protein (g)
Carbs (g)
Fat (g) Sodium (mg)
1 cup Reduced fat Greek yogurt
150
19
9
5
65
1Tbsp Peanut butter (Mix peanut butter in yogurt)
94
4
3
8
75
Meal 3 (Lunch)
Calories
Protein (g)
Carbs (g)
Fat (g) Sodium (mg)
1 (5 oz.) can chunk light tuna in water
125
28
0
1
450
2 slices whole wheat bread
140
3
13
1
132
1 Tbsp fat free mayonnaise
11
0
2
0
120
1 large orange
86
2
22
0
0
Meal 4 (Afternoon Snack)
Calories
Protein (g)
Carbs (g)
Fat (g) Sodium (mg)
2 scoops Whey Protein
170
40
2
0
200
1Tbsp Peanut butter
94
4
3
8
75
(Preworkout)
Calories
Protein (g)
Carbs (g)
Fat (g) Sodium (mg)
1 scoop Whey Protein
85
20
1
0
100
1 large apple
110
0
30
0
0
(Postworkout)
Calories
Protein (g)
Carbs (g)
Fat (g) Sodium (mg)
2 scoops Whey Protein
170
40
2
0
200
30 Gummi Bears
204
4
46
0
0
Meal 5 Dinner
Calories
Protein (g)
Carbs (g)
Fat (g) Sodium (mg)
8oz Top Sirloin steak
288
48
0
8
118
1 cup chopped broccoli
31
3
6
0
30
2 cups mixed green salad
44
3
8
0
0
2 Tbsp salad dressing (olive oil n vinegar)
144
0
0
16
0
Step 3- Take Supplements to assist

There are literally hundreds of supplement manufactures out there with so many lines of product suggesting they help you achieve a vast majority of things that is can be very confusing as to what to take and where to turn.

Lets look at the basics. In this position we see all of these products and have our favorites of course and have had the luxury of trying pretty much everything on the market. Here's the basic scoop of product. Protein, BCAA's, and daily multi vitamins are a must. Pre workout, Creatine, Test Booster Products, specialty categories a choice. Fat Burners, Muscle Gain Products and Performance enhancers are an option for your goals.

So now here are the recommended products of choice we have not only tried ourselves but saw great results from

Protein/BCAA, Multi




Pre Workout, Specialty




Fat Burners




Muscle Gain

The Program
More Articles