4 Weeks to Strength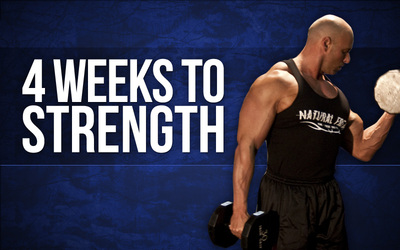 Here is your 4 week solution to Massive Strength and Muscle Definition
4 Weeks to Strength
When you want to start a workout that is geared towards increasing overall strength, do you truly know how to select one that will do just that? This is why you come to the WorkoutTrainer.com website. I write every workout. Me, Mike McErlane. The concept of building muscle has been plagued with "experts" who know very little about actual workout program design and periodization. Other techniques such as Pre Exhaust techniques and other critical program design elements and protocols are sadly missed by trainers and other would be fitness "gurus."
The below workout uses many of these techniques. Each week you will be executing many of the same exercises and the sets and rep schemes change in a progressive manner with both sets and reps and change based on the exercise selection. What do I mean? Lets take the Squat for example which you will execute each week on Day 4.
The sets and rep schemes for the squat are below
Week 1- 3x8
Week 2- 3x12
Week 3- 3x12
Week 4- 3x10
Here is the objective with this selection. The first week of 3x8 you of course do a weight in which you know you can do each set successfully or within a range to hit the number of reps. The second week because a different rep scheme and having to do 4 more reps, of course the weight probably will go down to get the extra reps called for. But in week 3 I have you repeat the same number of reps again. Why? Well because the idea is to increase the weight during the 3rd week by more than you did the week before. This is known as micro-loading. The final week I have you taking the reps down to 10 reps. Here is where you attempt to do the same weight you did the first week of 3x8, now with 3x10. So by the end of the program you have done 2 more reps per set with weight that you were only able to do 3x8 when you first started. That is a significant imnporvement in strength. Makign sense yet? I hope so.
For now the program is below and all you have to do is follow it for the next 4 weeks.
Take care,
Mike McErlane
Week 1
Day 1
Day 2
Day 3
Day 4
Day 5
Week 2
Day 1
Day 2
Day 3
Day 4
Day 5
Week 3
Day 1
Day 2
Day 3
Day 4
Day 5
Week 4
Day 1
Day 2
Day 3
Day 4
Day 5
More Articles