Band Only 4 Week Plan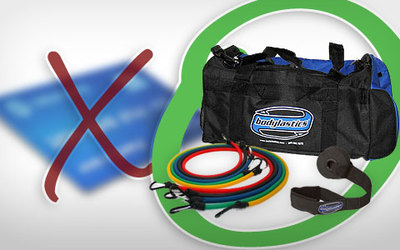 For those of you that might be limited on equipment, this Band only plan is sure to give you results.
If you have a set of Strength Bands, then your set when it comes to getting results especially if you are limited on equipment. Bands have been shown to provide numerous benefits that you simply cant get from free weight training alone. Are we saying to always train with them rather than free weights? NO, not at all, but they should be considered as apart of your workout arsenal. For even better results, you should actually combine them with free weight. But for now we will just stick to the bands being used by themselves for the purposes of this article and show all the benefits of why to use them.
Yes they can be more convenient especially when traveling, but even greater than convenience you can actually build stronger more defined muscles. Why?
2 Major benefits of the Bands
Unlike Free weight bands have no momentum. With no momentum you can move faster during the exercise. By moving faster your body recruits more of the type 2b fast twitch muscle fibers which are the ones that grow the biggest and strongest. Also by faster more explosive reps your heart rate spikes a bit more giving you the ability to burn more calories especially when you have low rest periods in between sets.
Ever see a sprinter? They have more chiseled, deep looking, aesthetically pleasing muscles than when compared to say more of a slow twitch type such as a marathon runner. The reason is because these muscle fibers require fast powerful movements in order to be developed.
The second reason why bands can be better at helping the body achieve results is because the weight or resistance when using bands changes based on how far they are stretched. In most movements as the bands are being used they increase in resistance when the muscle are getting stronger during the range of motion. For instance when you perform a biceps curl, at the top of the movement from which you are curling upward the biceps become more activated thus the muscle are the strongest at this point. So as you curl the bands upward the resistance increases forcing the muscle to work harder.
Now all you need is the program below to give you the structure and the guidance for success.
Take care,
Mike McErlane
More Articles