Bicep Curl Tip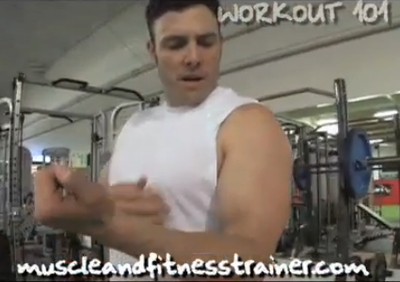 If you ever execute the bicep curl then you should watch this for a tip on how to maximize your results
Biceps Curling Tip
The Biceps Curl is by far the most common exercise performed in the gym. After all how hard really is the simple curling of the arm. Its what everyone does when they cant possibly think of what else to do as it "seems' simple enough right? Well, the fact of the matter is if your goal is to do curls and actually see results then you should understand how this movement is or should be executed correctly.
Understand the Anatomy of the Biceps
First understand that the anatomy of the arm is more than just the biecps Brachii. It consists of other muscle such as the Brachio-Radialis, Bachiallis, Coroco-Brachialis and other assisting muscles that allow for the arm to curl. The actual Biceps head itself is composed of two heads, the long head and the short head. So with all these movers of the arm, how or what is the best way to target the biceps head the correct way by simply curling the arm? In the below Video I review a very simple yet highly effective tip that allows you to perform the biceps curl correctly.
Additional Recommendations
Make sure to watch the entire video and also download the program I outline. If you have any questions you can always ask me in my Q and A section at the top. I encourage all of the users of the Trainer to download a custom plan that I wrote on based on the lifestyles and profiles that are int he system. If you have not already done so, create your own custom profile, by signing up for FREE, and also try the optional upgrade that allows you to get the custom nutrition, have access to view all the 1,12 exercises and many more features. Hope you all enjoy and look forward to your feedback on the Trainer.
Take care,
Mike McErlane
More Articles