Dont Doubt Me On Bands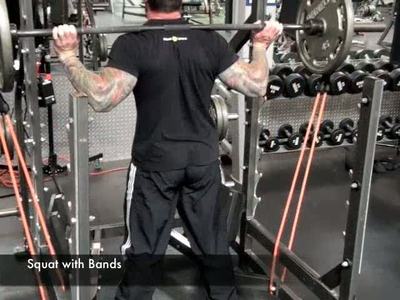 Still holding strong is the research On Bands
Many individuals using elastic resistance report that they can feel a difference, such as a stronger burn in the muscles and greater muscle fatigue, as compared to when they use free weights. This is due to the linear variable resistance that the elastic resistance equipment offers.
More Muscle Fibers
This allows a greater number of muscle fibers to be used and taxed throughout the range of motion. Anecdotal evidence aside, research studies also confirm this difference. One study performed at Truman State University (Kirksville, MO) found that athletes who included elastic resistance bench press training in their regimens had a significantly greater increase in bench press strength and power as compared to those who only utilized free-weight resistance training5. Another study, performed at the University of Wisconsin-La Crosse, reported in a 2006 issue of the Journal of Strength and Conditioning Research, that when athletes used elastic band training in addition to free-weight training they had significantly more leg power than when they only utilized free-weight training.
Another Benefit
A critical benefit of elastic resistance is that it prevents the user from "cheating" on the exercise being performed. This is a common practice, especially for beginners, when using free weights. Cheating involves the use of momentum to get the weight moving. Once the weight has built up momentum, the muscle fibers do not need to be maximally activated to continue moving the weight throughout the rest of the range of motion of the exercise.
But Why
This is due to the fact that the physics of momentum have taken over to move the weight. The physical properties of elastic resistance devices do not allow the user to cheat by using momentum. This is because the resistance from the elastic equipment comes from the stretching of the elastic material and not the mass of the elastic equipment. The only way to continue a movement while performing an exercise with elastic resistance is to utilize more muscle fibers in the exercising muscle to continue stretching the elastic material.
More Articles