High Protein Delight- Recipe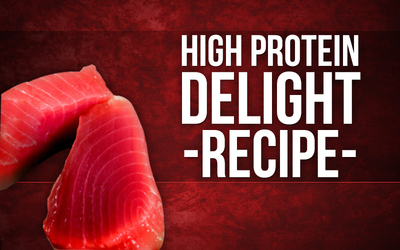 If you are looking for a great and tasteful recipe to get a High Protein meal, cook this up tonight
Here is one of my favorite recipes to cook up for a quick yet delightful High Protein meal.
Seared Ahi Tuna (Serves 2)
INGREDIENTS
2 Tbsp. balsamic vinegar
2 Tbsp. soy sauce (or 2 teaspoons of wheat-free tamari for gluten-free option)
1 Tbsp. of grated fresh ginger
1 clove garlic, minced
1 green onion (scallion) thinly sliced (optional)
1 tsp. lemon juice
2 (6-8 ounce.) fresh, sushi-grade ahi tuna steaks (3/4-inch thick)
INSTRUCTIONS
1. Mix balsamic vinegar, soy sauce, ginger, garlic, green onions and lemon juice together in a large bowl.
2. Place tuna steaks in bowl with the marinade, cover tightly and refrigerate for at least an hour.
3. Heat a non-stick skillet over medium-high to high heat. When the pan is hot, remove tuna from the marinade and sear them for 1 minute to 1½ on each side for rare tuna (keep on heat longer if you want the tuna more cooked through)
4. Remove from pan, and slice into 1/4-inch thick slices. Serve alone, atop a bed of lettuce or with brown rice.
NUTRITION FACTS (per serving)
213 calories
51 g protein
3 g carbs
2 g fat
0 g fiber
270 mg sodium
More Articles