Hitting The Right Areas For Your Pecs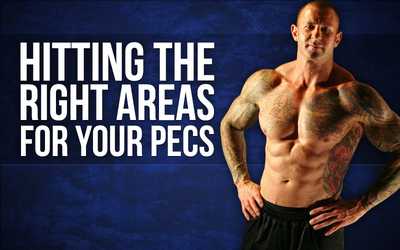 How do you hit the Pecs Correctly? Find out here.
Every Day I train, I am constantly getting questions regarding ways that help with proper pec development. Whats the best way to hit the Upper, the Inner, The lower, etc...The pecs are a funny muscle to truly understand which exercises target which area. First, it is important to understand the anatomy of the muscle and the shape. The Pecs are a fan Shaped Muscle originating at the Mid Clavicle (collar bone) and the Upper Sternum (Center of the ribcage), and inserts at the Upper end of the Humerus (The Upper arm right where the shoulder starts). The pecs Adduct and rotate the arm towards the center of the mid-line of the chest.
What the Heck does this all mean?
It means that If I were to put an electrical current to contract the pecs the arms would flex to the center of the body and the shoulder would rotate forward, and the palms would rotate down, like you giving a thumbs DOWN.
Looking at the action of how the pecs fire allow us to see which areas of the pecs are hit or emphasized when we work out. For instance the shoulder and position of the arms play a significant role in which areas of the pecs (upper, mid, Lower, Inner or Outter) are targeted. Whether the palms are faced up (ad in a reverse Grip bench Press), Palms Neutral (as in a DB Close Grip Bench) all the different positions hit the muscle fibers differently and more effectively.
The Below Video demonstrates a great super set that hits Both the Inner, Upper and Outer Pec Muscle Fibers with 2 movements using the "Pre-Exhaust Technique."
Additional Benefit For you
As If The video demo was not enough, I always Make sure to include a Workout With virtually every articles and video. Below is a Great Workout Program to try for the next 3 weeks.
Use the site
There are over 500 workout Programs that Have been written in the Workout Trainer Member area. Make sure to sign up and start using the workouts especially the Monthly workouts that are released each montht hat I have specifically written for 126 different individual types of goals that anyone can have. I hope you all enjoy the site and do me 3 favors
1.) Leave Feedback in the Comments section Below
2.) Share this with the share links at the top
3.) Sign up for the site and start using the workouts and Nutritional Meal Planner
Take care,
MIke McErlane
Week 1
Day 1
Day 2
Day 3
Day 4
Day 5
Week 2
Day 1
Day 2
Day 3
Day 4
Day 5
Week 3
Day 1
Day 2
Day 3
Day 4
Day 5
More Articles