Hitting the Upper Pecs- Complete Guide and Workout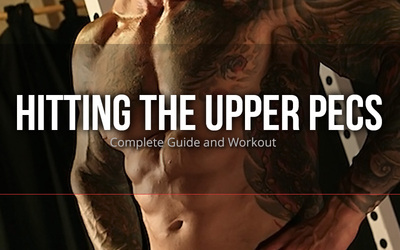 If you want to Hit your upper Pecs, then This is the Guide on how to do it.
The Workout Program Below was designed to emphasize the upper pec muscle fibers. Traditionally when training on a weekly split You would want to hit the chest twice for the best results at developing overall strength and size within a specific muscle group. In most cases because the pec muscle is fan shaped, you can emphasize different parts of the muscle with different exercises.

Over training can occur if you continuously hit all the parts of the pecs each time you train. For instance, if you always do a combination of Flat, Incline, and Decline bench and only train chest once per week, you could be limiting your bodies ability to grow, especially if you have hit a plateau.

Over-View
This specific routine is an example of a training split that focuses on the upper pecs as the primary focus for one of the days you train chest. The program starts out with the Incline Bench using the bands because, during the beginning part of a workout is when your body has the best chance at performing powerful, fast movements and the ability to recruit the type 2B fast twitch muscle fibers, which are the muscle fibers that grow the biggest, and the strongest.
Outlining your Program
From there, I have you performing a regular incline bench press with low reps and low sets. Because of the fatigue from the first 3 sets of barbell bench press with the bands, I want Strength to be the primary focus when NOT using the bands. Push as much weight as possible for the regular incline bench for just 3 sets of 3 reps. The rest of the program has a combination of super sets with the other auxiliary lifts outlined. The last exercise I have you performing is a reverse grip Incline Bench. With this set I want you to go to muscle failure using this exercise, which has shown to target and hit more than 30% more of the upper pec muscle fibers than any other exercise outlined in the program.
HOPE YOU ENJOY,
Take care,
Mike McErlane
The below video explains the benefits of the Incline Bench utilizing the Bands and I also lay out a well structured routine to follow.
More Articles