Large Selection Of Meal Plans From the Trainer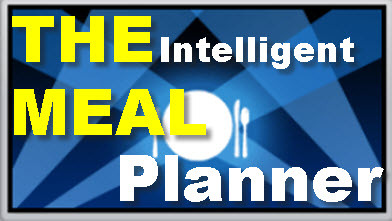 A few meal Plans to follow if you don't have any currently
The Trainer has one of the, if not the most comprehensive Custom Meal planner available on the internet. I spared no expense and time in developing and writing all the content and programs listed on the Trainer. The audience of the Trainer is pretty large and I try to accommodate all of our members. Understandably many use the Free version of the Trainer and we try to make as much available for Free as possible.
However I feel like there is much missed out on especially with the Custom Meal Planner that could help many of the members get results faster. I myself get in the habit of not following a well structured plan, but i can honestly tell you that when i create my plan, print it out and post it to the fridge and actually follow it, trust me I notice the difference right away. Its almost amazing that when you have something to follow that is written down, subconsciously you just seem to make an effort to follow it. So to try and help some of you who have not yet created an account and or upgraded for the $10 a month below I outline some great meal plans that I created on my own account using my own system. I hope these meal plans help some of you in following a structured way to eat.
Also thankfully I have the inside on many offers made from supplement companies, and other fitness brands. I deal with these companies all day so I always want to make sure you guys have the intel on offers and services that are out there. I do my best to provide as much content based on my own knowledge of Training and Nutrition as well as what is going on in the fitness Industry. My friends at BPi Sports are doing a Supplement Giveaway and additional offers, so be sure to check out the offer banner at the end of this page to see how you guys can take advantage.
As always I still encourage everyone to upgrade and use the features for yourself as it helps keep things running around here. Thanks again to everyone who has given such great feedback. I have a new version of the Trainer coming out soon with new features a new ipod app and other numerous items. Thanks again!
Take Care,
Mike McErlane
HERE ARE THE MEAL PLANS
Egg, white only, cooked : 2 white : 33 cal
Oatmeal, cooked, regular, fat not added in cooking : 3/4 cup, cooked : 109 cal
Milk, calcium fortified, cow's, fluid, skim or nonfat : 3/4 cup : 65 cal
Coffee, NS as to type : 1 small pot (20 FO, 4 servings) : 14 cal
High protein bar, soy base : 1/2 Typical Serving : 162 cal

Calories: 383 Carb=48g Prot=25g Fat=8.9g
Apple, raw : 1 large (3-1/4" dia) (approx 2 per lb) : 125 cal
Cheese, cottage, lowfat, low sodium : 2 cup : 325 cal
Banana, raw : 1/2 medium (7" to 7-7/8" long) : 54 cal
Wheat germ, plain : 1 Typical Serving : 214 cal

Calories: 719 Carb=86g Prot=73g Fat=12g
Tomatoes, raw : 2 small whole (2-2/5" dia) : 38 cal
Rice, white, cooked, regular, fat not added in cooking : 1/2 cup, cooked : 102 cal
Fish, NS as to type, baked or broiled : 3-1/2 oz, boneless, cooked : 126 cal
Banana, raw : 1/2 medium (7" to 7-7/8" long) : 54 cal

Calories: 320 Carb=45g Prot=26g Fat=4.6g
Almonds : 1/2 Typical Serving : 82 cal

Calories: 82 Carb=2.9g Prot=2.8g Fat=7.3g
Carrots, raw : 6 thin strip or stick : 5 cal
Spinach, raw : 2-1/4 cup : 15 cal
Milk, calcium fortified, cow's, fluid, skim or nonfat : 1 cup : 86 cal
Chicken, boneless, NS as to part, broiled, light or dark meat, skin not eaten : 2-1/2 thick slice (approx 2" x 1-1/2" x 3/8") : 99 cal
Tortilla, flour (wheat) : 1 tortilla (approx 5" dia) : 55 cal
Wheat germ, plain : 1 Typical Serving : 214 cal

Calories: 475 Carb=53g Prot=43g Fat=12g
Total Calories: 1979 Carb=234g Prot=171g Fat=44g

Wheat germ, plain : 1/4 cup : 108 cal
Oatmeal, cooked, instant, fat not added in cooking : 2/3 cup, cooked : 151 cal
Banana, raw : 1 medium (7" to 7-7/8" long) : 109 cal

Calories: 367 Carb=68g Prot=16g Fat=6.1g
Apricot, raw : 2 apricot : 34 cal
Almonds : 1/5 cup : 166 cal
Yogurt, fruit variety, lowfat milk : 1 6 oz container : 173 cal

Calories: 373 Carb=46g Prot=14g Fat=17g
Apple juice : 1 drink box (8.45 fl oz) : 123 cal
Egg, white only, cooked : 2 white : 33 cal
Turkey sandwich, with spread : 1 sandwich : 330 cal

Calories: 486 Carb=57g Prot=36g Fat=12g
Protein supplement, powdered : 1 Shaklee packet : 221 cal

Calories: 221 Carb=16g Prot=32g Fat=2g
Salmon, baked or broiled : 3 oz, boneless, cooked : 146 cal
Mixed vegetables (corn, lima beans, peas, green beans, and carrots), cooked, NS as to form, NS as to fat added in cooking : 1 Typical Serving : 71 cal
Sweetpotato : 1 Typical Serving : 152 cal

Calories: 368 Carb=40g Prot=25g Fat=12g
Total Calories: 1815 Carb=227g Prot=123g Fat=49g
MEAL PLAN 3
Banana, raw : 1 medium (7" to 7-7/8" long) : 109 cal
Oatmeal, cooked, instant, fat not added in cooking : 2/3 cup, cooked : 151 cal
Milk, calcium fortified, cow's, fluid, skim or nonfat : 1 cup : 86 cal
Raisins : 1/4 cup : 109 cal

Calories: 455 Carb=94g Prot=17g Fat=3.7g
Banana, raw : 1 small (6" to 6-7/8" long) : 93 cal
Almonds : 1/3 cup : 277 cal
Apple, raw : 1 medium (2-3/4" dia) (approx 3 per lb) : 81 cal

Calories: 451 Carb=54g Prot=11g Fat=26g
Apple, raw : 1 medium (2-3/4" dia) (approx 3 per lb) : 81 cal
Mixed salad greens, raw : 6 cup, shredded or chopped : 55 cal
Salad dressing, low-calorie : 1 Typical Serving : 41 cal
Turkey sandwich, with spread : 1 sandwich : 330 cal
Yogurt, fruit variety, lowfat milk : 1-1/3 6 oz container : 231 cal

Calories: 738 Carb=103g Prot=45g Fat=18g
Pork chop, fried, lean only eaten : 1 oz, boneless, cooked, lean only : 64 cal
Broccoli, cooked, NS as to form, fat not added in cooking : 1 cup, flowerets : 27 cal
Lettuce, salad with assorted vegetables including tomatoes and/or carrots, no dressing : 4 cup : 52 cal
Salad dressing, low-calorie : 1 tablespoon : 21 cal

Calories: 164 Carb=18g Prot=14g Fat=5.8g
Total Calories: 1807 Carb=270g Prot=86g Fat=53g
MEAL PLAN 4
Wheat germ, plain : 2 Typical Serving : 428 cal
Milk, calcium fortified, cow's, fluid, skim or nonfat : 12 fl oz : 130 cal
Yogurt, fruit variety, lowfat milk : 1-1/3 6 oz container : 231 cal
Toasted oat cereal : 1 cup : 94 cal

Calories: 883 Carb=136g Prot=58g Fat=16g
Banana, raw : 1 large (8" to 8-7/8" long) : 125 cal
Almonds : 1 Typical Serving : 165 cal

Calories: 290 Carb=38g Prot=7g Fat=15g
Mixed salad greens, raw : 2 cup, shredded or chopped : 18 cal
Tomatoes, raw : 2 medium slice (1/4" thick) : 8 cal
Turkey sandwich, with spread : 1 sandwich : 330 cal

Calories: 357 Carb=31g Prot=31g Fat=12g
Raspberries, frozen, unsweetened : 1 Typical Serving : 61 cal

Calories: 61 Carb=14g Prot=1.1g Fat=0.69g
Broccoli, cooked, from fresh, fat not added in cooking : 1/3 cup, fresh, cut stalks : 14 cal
Spaghetti with tomato sauce, meatless : 1 cup : 229 cal
Beef, roast, roasted, lean only eaten : 2 medium slice (approx 4-1/2" x 2-1/2" x 1/4") : 166 cal

Calories: 410 Carb=44g Prot=32g Fat=11g
Orange, raw : 1 medium (2-5/8" dia) : 62 cal

Calories: 62 Carb=15g Prot=1.2g Fat=0.16g
Total Calories: 2062 Carb=278g Prot=131g Fat=55g
Click on the banner Below for the BPI Giveaway offer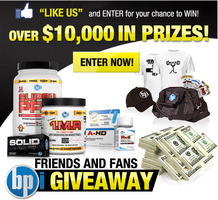 More Articles