Lemon Lamb Chops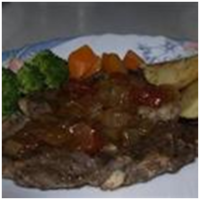 If your in the mood for Lamb, We have your recipe
Ingredients:
- 6 pieces lamb chops
- 1 lemon
- Mediterranean herbs
- olive oil
- salt, pepper
Preparation:
Season the lamb chops with salt and pepper, add some lemon zest and the Mediterranean herbs and let them marinate for 30 minutes. Heat some olive oil in a pan and fry the lamb chops on both sides, giving them a nice brown crust and making sure they stay juicy and tender (use powerful heat for the perfect chops). Once they are done, sprinkle with some fresh lemon juice and let them rest for 5 minutes before serving. Light and delicious!
Nutritional content, per serving:
Calories: 350
Protein: 20
Fat: 25
Carbs: 40
More Articles