Perform Better To Burn Fat and Build Strength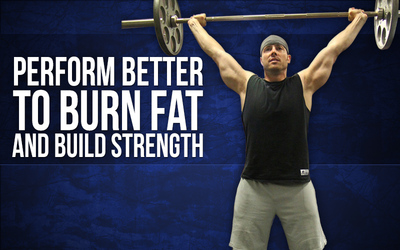 8 Week Performance Workout
Performance
What is performance? Do you really understand what it means? The key with Performance is that it doesn't have one singular meaning that is appropriate and that applies to EVERYONE. Performance can mean that you simply get better at walking up stairs if it is your goal to do so. Whatever you wish to perform better at today vs. yesterday, the goal of this workout is to get you out of your day to day workout plan, and give you something that you have never done before in one complete program.
When you look at the role of performance and how it is structured in a workout or training regiment for an athlete, even then, there are certain protocols that vary form one sport to the other. This workout will have you doing many functional movements involving fast, powerful exercises with short rest periods. One of the many benefits of this type of training is that it will enhance your Endurance while keeping your body moving for optimal calorie expenditure. Research has shown that the best way to shed body fat is to perform High Velocity types of movements with short rest periods.
By doing these types of movements such as Power Cleans, Squats WITH bands, Bench with bands, Box jumps etc..you will have your body performing at its highest potential to complete each rep and task. It is EXTREMELY important at how, when, why and to understand the combination of putting all of these types of movements into a plan. The significant benefit of each of these explosive types of movements is that they all have your body pushing as hard as possible through each set and rep which will force your body to immediately recruiting the type 2B fast twitch Muscle Fibers, which are the muscles that grow the biggest and the strongest.
Rules for this Program-
Make sure to execute a 5-10 minute warm up either with a light jog (treadmill) or jump rope for 30 seconds with 30 second rest periods for 10 minutes.
Rest Periods-
Do Not take more than 45 seconds rest between each and every set.
Use of bands-
When the bands are called to use with certain exercises such as Barbell bench press with bands, Squats with Bands etc..., you want to drop the weight do HALF (50%) of what you would be able to perform with the listed reps and then add the bands as necessary. For instance if the sets say 3x10 with the Bench and the bands take whatever you know you could press 10 times and cut that weight in HALF and then add the bands. When you do the exercises with the bands, you have to make sure to perform each rep as fast as you possibly can. The reason is because this will allow for even a greater number of fast twitch muscle fibers to be recruited.
Since This workout has you performing things like plyometrics, exercises with the bands and cardio-acceleration I have included some helpful videos that will help you understand exactly HOW to workout with this training plan.
Helpful Videos
Week 1
Day 1
Day 2
Day 3
Day 4
Day 5
Week 2
Day 1
Day 2
Day 3
Day 4
Day 5
Week 3
Day 1
Day 2
Day 3
Day 4
Day 5
Week 4
Day 1
Day 2
Day 3
Day 4
Day 5
More Articles