Pre Exhaust Workout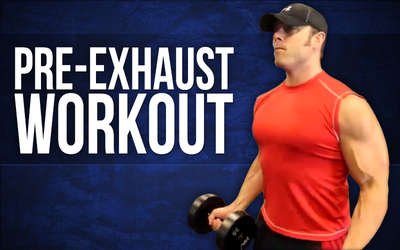 One of the best ways to build muscle is to use this technique. Get the workout now.
Just what it Pre-Exhaust Training?
Pre-exhaust training is a technique that is used by those looking to recruit more muscle fibers to the intended muscle that you are training, by allowing for the time under tension of that muscle group to work in excess by starting with a Single Joint exercise then moving on to a multi-joint exercise. By forcing your muscles to work twice as hard on multi-joint movements, you ensure the muscle fatigue's first before neurological fatigue sets in. Because single-joint movements are used first and bio-mechanically great exercises for joint stability it can be used to limit the force on the joints and tendons when doing multiple-joint movements. So in other words your muscles you intend on working can be taxed incrementally by using this technique. Watch the video below for more and then try the workout program.
Week 1
Day 1
Week 2
Day 1
Week 3
Day 1
Week 4
Day 1
More Articles