Get Ready for the Show- Workout Download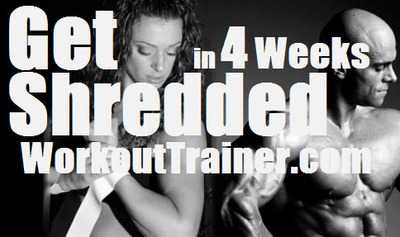 Download the Most Popular Workout in the last year
Every now and then we come up with a workout that can even surprise us as far as how well it was put together. The way we judge is by getting your feedback, and also putting the program to the test ourselves. This plan is a combination of Resistance Training with Weights and Cardio in between. This was the first program we wrote that spawned the HIIT principles that we encourage so highly today. High Intensity Interval Training is what we are talking about. The combination of short high intense bouts of cardio in between weight training has shown to be the best way to shed fat and build muscle. If your still on the kick that you need to jump on the treadmill, bike or elliptical for an hour to tone up and drop body fat you should probably listen up. Research has shown that this type of training burns twice as many calories with one hour of this type of training than an hour of steady cardio.
The Nutrition and Workout Program are for both Male and Female's alike. If your goal is to burn fat, stay strong, and add some muscle confusion with a NEW twist on your current regiment than this program will do wonders for you. The calories per day are essential to give you enough fuel to get through the workout but remember timing your meals to where you have a pre workout snack will be left up to you depending on which time you train throughout the day.
The Nutrition Plan that comes along with this plan is key as well as a regimented supplement plan.
The Nutrition and Supplement Plan
Monday
Breakfast 1
1/2 large grapefruit
2 Scoops Whey Protein
Breakfast 2 (30-60 minutes after B1)
Western Bagel Perfect 10 Healthy Grain Bagel
1Tbsp Peanut butter
Late morning snack
2 large whole eggs (hard boiled)
Lunch
4 slices Turkey deli meat
2 slices reduced-fat swiss cheese (Alpine Lace)
(place two slices of turkey together and lay one slice of cheese on top. Spread mustard on cheese and roll into a tube and eat)
Mid-day snack
1/2 can albacore tuna (or one 3 oz. can)
1/4 cup lowfat cottage cheese
(mix cottage cheese in tuna, add any desired vegetables and eat)
Dinner
6 oz. Shrimp
1 cup frozen stir-fry vegetables
¼ small ginger root (thinly sliced)
1 Tbs. soy sauce
(stir fry veggies and shrimp, add soy sauce and ginger)
2 cups mixed green Salad (include spinach and raw broccoli)
1 Tbsp Olive oil/1 Tbsp balsamic vinegar (use as salad dressing)
Nighttime snack
1 scoop Casein protein
7 walnut halves
Totals: 1565 calories, 185 g protein, 65 g carbs, 65 g fat
If you workout today add the pre and postworkout meals within 30 minutes before workouts and within 30 minutes after. This will bump your totals up to:
1910 calories, 245 g protein, 90 g carbs, 65 g fat
So we encourage all of you to give this one a try and also sign up for an account on the trainer to get more custom programs based on your goals. If you have not done so take 1 minute to fill out the questionnaire and let us get to work for you. There is an optional Upgrade for more advanced features, but hey its how we are able to pay the bills here so for $10 per month to get numerous plans, and custom nutrition we hope you'll take us up on it. If not at least create a free account. Feel Free to ask me questions in my Q and A.
Take care,
Mike McErlane
Probably the Most Popular Workout in the last year written by our very own Jim Stoppani The Showtime Workout. Download it below.
STEPS If You are Having Issues
Click on Workouts under My WT
Click on The Lifestyle (His, HERS etc..) Workouts
Click on Get Ready for the Show Workout Program
More Articles