Strong and Fat Free In 4 Weeks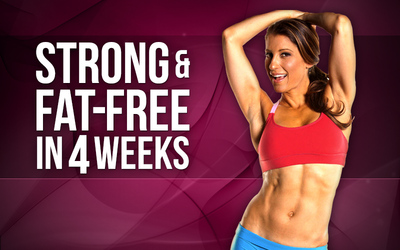 Try this 4 week Strength and Fat Loss Workout
Defining Strength for many women is not how most men would define the same term or even achieve the same results. Increasing Strength truly means being able to "perform" better at an infinite number of activities both physically and or mentally. So with such a broad meaning to the term, as it applies different meanings for each individual, let me be clear as to the definition of How Strength will be defined with this workout.
Strength
With this 4 week plan, you will strengthen your entire body physically to be able to lift more weight. By increasing your Physical Strength your body will tone and sculpt, hard, sexy, firm muscles. Because Women are estrogen based the misconception that you will build bulky muscles like the boys ladies is just that....a misconception.
Testosterone is the main hormone responsible for Muscle Growth. Muscle Growth is our goal here, but the ability that we have to grow the muscles you are worried about (assuming you might be) is simply not the case. Women have 20 times less testosterone levels than men. Needless to say you will not get big, even if you are the type who "has a tendency to build more muscle than the average woman." I have heard that before as well.
Squats, Lunges, Shoulder press, and YES even chest exercises like Barbell bench Presses are all movements that you should be doing in order to maximize your results. Weight is one variable to consider when doing some of these movements, however they are all bio-mechanically correct movements to do in order to tone and strengthen the muscles in the body. Do not get into the belief that there are exercises you need to stay away from to limit your fear of overdeveloping areas or taking away from the areas of your body you dont intend on growing or minimizing. (Of course some women may stay away from certain Chest Movements as advised by a Plastic Surgeon and to that I will not debate your doctors opinion.)
However, Every professional Fitness Competitor from the Bikini Category (
Which I will take some credit for in coming up with the original concept with the former Editor-in-Cheif of FLEX and the VP of the Mr. Olympia several years ago. But I digress. ;-)
, to the Figure and Fitness Competitor's, whom grace the stage and the pages of just about every fitness magazine you see, ALL understand that you must work just as hard as the guys WITH weights in order to stay in contest ready shape.
Fat Loss
So now we have gone over the Strength topic of this program, let us move onto the fat Loss part. The one particular concept you will notice in this program, is that I have you performing Several bouts of cardio in between the actual weight session. The reason why is because recent research has shown that this type of training, or HIIT training is best for shedding fat. There are many forms and variations of HIIT, however with this program you are getting that 30-40 minute cardio session broken down into 3- 4 grouped sets strategically placed in order of a listed set of exercises.
The Fact that you combine the cardio with the weights will not only have you bouncing back and forth between the weight room and the treadmill, bike, etc...but the constant movement back and forth will give you little rest time This constant flux of back and forth between Anerobic and Areobic movements will have your target heart rate at an all time high, thus your body will be expending calories and energy like never before.
**I would suggest for even more intensity to implement as needed the Cardio Acceleration principle in between each workout set with the weights. For example, if you have 3x10 for squats, in between each set try jump roping vs. resting. For more on Cardio Acceleration watch the video Below
Week 1
Day 1
Day 2
Day 3
Day 4
Day 5
Day 6
Week 2
Day 1
Day 2
Day 3
Day 4
Day 5
Day 6
MEMBERS Logged in
More Articles