Thai Noodle Salad Sounds Good Tonight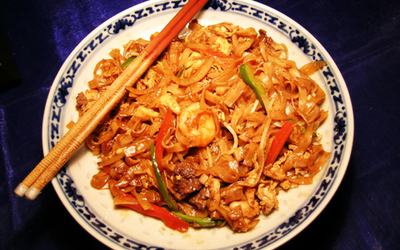 Eat Up. Thai Noodle Salad Recipe
Cooking can be one of the hardest parts for eating well. However, once you start you'll become an addict and really start to enjoy preparing meals for yourself. Here is a great recipe to get you going.
INGREDIENTS
1 (12 ounce) package angel hair pasta
3 cups shredded napa cabbage
4 large carrots, shredded
1 small green bell pepper, chopped
1 small red bell pepper, chopped
1 small yellow bell pepper, chopped
1 bunch fresh cilantro, chopped
1 bunch fresh green onions, chopped
1/2 cup chopped peanuts
2 tablespoons toasted black sesame seeds
8 ounces frozen cooked shrimp, thawed and drained

1/4 cup peanut butter
2 tablespoons tahini
1/4 cup rice wine vinegar
1/4 cup sweet chili sauce
5 tablespoons soy sauce
1 teaspoon sesame oil
1 teaspoon brown sugar
1 teaspoon garlic powder
1 teaspoon salt
1 teaspoon ground black pepper
DIRECTIONS
Bring a large pot of lightly salted water to a boil.
Break pasta into small pieces and add to boiling water; cook for 8 to 10 minutes or until al dente; drain.
In a large bowl, toss together the pasta, cabbage, carrots, green, red and yellow bell peppers, 1/2 of the cilantro, 1/2 of the onions, and shrimp.
In a small bowl, stir together the peanut butter, tahini, rice wine vinegar and sweet chile sauce. Season with soy sauce, sesame oil, brown sugar, garlic powder, salt and pepper.
Ten minutes before serving, toss the sauce with the cabbage mixture until evenly coated.
Garnish with remaining cilantro, green onions, peanuts and black sesame seeds.
More Articles