The Deadlift Experience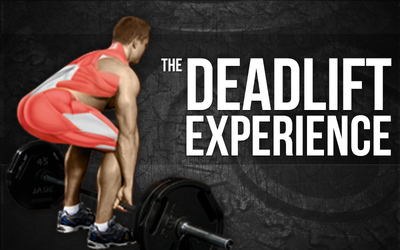 Get the Facts on the Deadlift
The Deadlift
The Deadlift is one exercise that everyone who thinks of themselves as being a true fitness expert does. Based on whether or not they Perform this Lift correctly or know much about it is another thing. Just doing deadlifts does not mean you are doing them correctly and or even seeing any benefit from them. In many cases individuals hurt themselves in the process as this can easily slide into and "ego lift". Maybe not everyone, but there is some gratification you feel when you are pulling the 400lb iron from the floor, while the rest of the gym is doing biceps curls.
The one problem is that many don't really know how to deadlift properly. Many because they may interpret when to do this lift, which muscles are the prime movers, and more importantly the technique involved when you do the deadlift.
First- The deadlift primarily emphasizes on the Legs, and glutes. The legs are classified as the prime movers. Many think deadlifts are for back, and yes the back is apart of this movement, but the back is not the focal point of this lift. The Legs are doing most of the work (if your technique is spot on.) The lower erector Spinae, Traps, Rhomboids, and other back muscles are involved only to keep the spine in a neutral position so that the shoulders do not come forward and protract to where the load then gets placed directly on the spine vs. the muscles.
The back remains in a static contracted state which yes classifies it as working, but the movement and joints involved are the hips and the knees. The muscles that allow for knee extension (which happens when you do this lift) and posterior rotation and hip extension (which happens in the deadlift) are the quads, glutes and hammies. So in retrospect the muscles that are primarily emphasized and classified as the main movers are the Legs.
For best results the deadlift should be performed on Leg Day and done at the Beginning of your workout Before Squats, but after power movements such as Power cleans snatch etc....
If you are just stuck on doing deads on Back Day it is more than fine, however research has shown best results are done with this lift incorporated into a Leg Routine.
If you want a complete workout that incorporates deads I have created a program below, and make sure to login or sign up for Hundreds of other complete programs for any goal and or lifestyle you could possibly want. Find all the workouts in the workout section and download the workout trainer.com app and have all the workouts with you while at the gym. No more tearing out the magazines or writing down in a notebook.
Download the app for free
when you are a member to the site.
Take care,
Mike McErlane
To get a How to on the deadlift watch the video below.
http://www.workouttrainer.com/home/videos/workout-0dead-lift
Get the Workout
Week 2
Week 3
<<
More Articles