The Get Back to Results Workout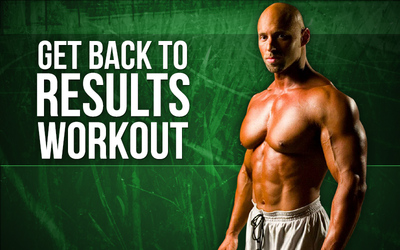 This workout will give you the structure you need to see some serious results.
This Workout is designed for the Gym enthusiast who is seeking to Finally have a well structured plan to either get you back into the routine or change something up and get you out of the staleness of your current plan. We all have those weeks and maybe even months that we simply have not made the gym the priority, and when we do go we get into the same ole routine that offers little result. Life tends to get in the way sometimes. Kids, Family, Work etc...these are all simple things that can take away from the activity of staying in prime shape. I understand this all too well as a New Father, however we must try to make the gym just as much as apart of our lives as showering each day or eating breakfast.
When you commit to making the gym a priority just as much as anything else in life, you will see how just about everything else somehow gets better. Why? Because when you feel good about yourself, and see the end result, you feel good about everything.
In this workout program below I outline a perfect workout that will help you jump start a well structured plan so that you make the most out of your time in the gym. Not too long, not too short. This plan has all the elements that are needed in a well structured Periodized plan that is surely to help get you in and get you out in 60 minutes and help net you serious results.
As always login or sign up and start completing all the hundreds of other workouts that are listed in the workout section and are downloadable using our Iphone and Droid apps.
take care, and Enjoy,
Mike McErlane
Week 1
Day 1
Day 2
Day 3
Day 4
Day 5
Week 2
Day 1
Day 2
Day 3
Day 4
Day 5
Week 3
Day 1
Day 2
Day 3
Day 4
Day 5
Week 4
Day 1
Day 2
Day 3
Day 4
Day 5
More Articles