The Unilateral POWER Workout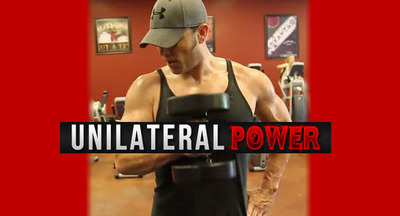 Try the Unilateral Program for increases that you never thought possible
The Unilateral Program
One of the best and most effective ways to train not only to change things up in the gym, but also to shock your body in a way that will generate massive increases in your strength is to execute Unilateral movements.
What are Unilateral movements?
Not as Scientific of a term as it sounds if you are unfamiliar. Unilateral training refers to executing a movement with either one arm or one leg working at a time. Many of us have train for years doing the standard Both arms moving using a barbell or dumbbell and both legs moving when we train our upper and lower body.
The problem is that over time we can overcompensate our dominate limb and encourage the body to work one part more than the other. Injuries and strength imbalances can be a results and even the aesthetics of the results can be seen when one arm/leg is clearly larger that the other.
Training Unilaterally can also help with the mind to muscle connection as it forces you to focus on one area of the body you are using which can help with harder more significant contractions in the muscles that are being worked. In the Below Videos I explain a few unilateral movements with a corresponding workout program listed.
If you are in need for a way to dramatically change the way you train, and see significant gains try the Unilateral Power Program below.
Helpful Videos
http://www.workouttrainer.com/home/videos/workout-0-unilateral-lat-pulldown
http://www.workouttrainer.com/home/videos/workout-0unilateral-movements
http://www.workouttrainer.com/home/videos/db-bench-press-one-arm
Week 1
Day 1
Day 2
Day 3
Day 4
Day 5
Day 6
More Articles