Train As an Athlete and Get Results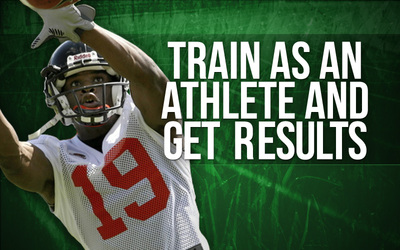 If you want results, then you must Train using a Program designed to get them
Walk around a typical gym setting these days. How many people do you see doing the typical training cycles and exercises? Have they changed their physique over the course of the weeks they have been training? Not really, right? Now, are you one of these guys or gals? I personally have friends who do the same thing. They are avid gym goers, and they train everyday, but they lack the structure of having a workout program that is geared to give them results. I know many have their programs that "work" for them and their favorite plans or routines, but that is the problem. A workout Program should be anything but "routine". A real program that gives you real results should be a plan that is ever changing based on the proper laws of pecific types of periodization for a specific goal in mind. Once you actually attempt and work one of these programs, the results will come out of nowhere. STOP doing your own routine and structure. Start doing a workout program that was designed for a specific reason based on your goals.
The below workout program is designed for athletes or those who want to train and or look like one. Many common movements are nixed from workout programs these days by Trainers and other experts because they truly do not know how to teach or perform the movements themselves. How many trainers and or other gym enthusiast perform Power Cleans, Dumbbell Squat, deadlifts or other un-traditional movements. How many people do you actually see ever squatting or squatting correctly (like going down parallel)? So for those that have yet to receive a proper evaluation and or instruction on how to do these certain movements, I have included a couple of instructional videos to help in the process before you take on the workout program.
Power Clean
The Power clean is typically stereotyped for those athletes such as football players and power lifters. However, ALL types of athletes no matter the sport even females should perform this crucial exercise. If the goal is to increase speed, power, and endurance throughout an athletic event, the clean must be apart of your program. The clean takes many attempts to maintain proper form and technique and must be administered by someone who knows how to perform this exercise perfectly.
Dumbbell Front Squat
Week 1
Day 1
Day 2
Day 3
Day 4
Day 5
Week 2
Day 1
Day 2
Day 3
Day 4
Day 5
Week 3
Day 1
Day 2
Day 3
Day 4
Day 5
Week 4
Day 1
Day 2
Day 3
Day 4
Day 5
More Articles