Train Like An Animal- 4 Week Workout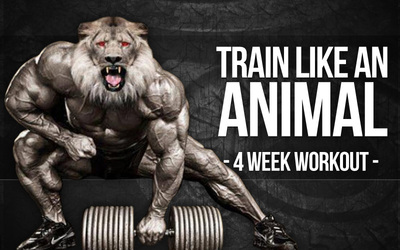 You are training the wrong way if you are not on the verge of complete failure when you walk out of the iron room. Sweat should be dripping. Your clothes should be soaked as if you just jumped in a pool. Your legs should just be able to carry you out the doorway when you are complete. However, the overwhelming high of just accomplishing what others simply do not have the guts to finish should be at an all time high.
Look, I will never judge anyone who doesn't feel this way after their training sessions, but will never have any sympathy for those who complain they don't see results either. If it was easy, then everyone would do it. The problem is, not too many have the mental fortitude and the power to control pain and weakness that we physically put on our muscles to encourage them to grow.
Our muscles do not want to work by themselves. They are the machines in our body that we must force to work and push beyond what limitations they think they have. Its a mental battle each day, BUT it all comes down to the right program.
Having a random plethora of exercises mixed together that you think of on the fly is the WORST thing you can do to see results. Think of driving to a destination without knowing how to get there, without a map or navigation, and not even planning for the trip. You simply jump in the car and take off drivign in the direction, but not knowing the most effective route to get there. This is exactly what I see every single day with even the most dedicated individuals who train.
Step 1-
Get on a plan that was written by someone who KNOWS proper periodization and muscle grouping of exercises
Step 2-
Put that plan into work and follow it precisely as if you were listening to your nav system in your car guiding you to your destination
Step 3-
Work your frigging ass off utilizing proper techinique and train like an Animal leaving nothing in the gym and walk out feeling great about the work you just put your body through
The Plan below is a 4 week Randomly Periodized Program that has you working through a structured plan that I like to call the ANIMAL Workout.
Week 1
Day 1
Day 2
Day 3
Day 4
Day 5
Week 2
Day 1
Day 2
Day 3
Day 4
Day 5
Week 3
Day 1
Day 2
Day 3
Day 4
Day 5
Week 4
Day 1
Day 2
Day 3
Day 4
Day 5
More Articles