Training Protocol- What Should you do?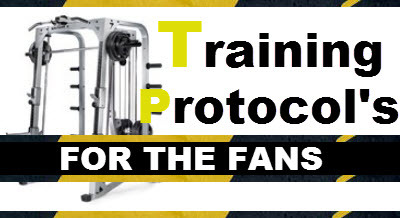 Mike McErlane's take on Your Training Protocol
"If your goal is to gain strength, build muscle, and or lose fat then I am talking to you." Sounds familiar doesn't it? We all hear these phrases or terms being asked of us on a daily basis by many different products, or services that offer those results. Bottom line I am only interested in things that work that give that return on investment. If you're a user of the Trainer already then you know that this reigns true with what this website offers when it comes to workout programs and other fitness information.
Training-
Is there a one way solution that is the miracle way to train?
No- there needs to be a comprehensive approach to identifying an individuals goal that utilizes a variety of techniques allowing for a rate of change in order to get results. (Say that 10 times fast). But it's true.
Who are you?
No, im not talking about a psychological profile of your mental state questioning the person you are. Im talking about who are you physically? What are your abilities, your concerns in your physical presence. Are you over weight, are you training for a sport. Establish your lifestyle first. Once there, you can then progress to "Where you want to go".
You first need to establish an honest conversation with yourself and realize that if your comfortable in your training program, your not Progressing. PX90, Beach Body, Insanity etc...are all good....for a while. But what happens when you have finished that race. Do it again? Chances are you won't see the results your looking for the second time around. Mainly because you will now have a different goal once you achieve the initial one. If anything, you'll start to regress by repeating it. Thats our constant battle each and every day. Fighting against regressing backwards. Its the bodies natural ability to adapt to its surroundings. Training and training programs are no different. Thats why I built this website. Nothing is the same. I utilize everything! I stress techniques and certain methods such as the use of Bands, but using these techniques varies from program to program, day to day, week to week and month to month.
Nutrition-
I'll keep this simple. Eat like a caveman!
Greens are first, Fruit when its in season and meat when you can Kill it. Not necessarily in that order of course. Protein is essential especially when you Train. High carb, low carb, No carb. What do we do with Carbs? Friend or Foe? Well, it depends. It depends on your metabolism, and if its slow and you dont exercise, carbs can be your enemy. Now exercising helps speed up the metabolism, so eating carbs is essential to provide fuel for when you train. Easy rule of thumb here is to eat less per meal but eat often. Typically every 3-4 hours is about right spreading out your daily allowances into 5-6 meals. Keep your diet about 40-50% Protein, 30-40% carbs,and 10-20% Fats. If your goals change because of a competition, or other activities of course so would your nutritional intake and the percentages would vary. Your calories should be roughly about 10-15 calories per pound of body weight if you exercise regularly.
Supplements
Do you take them?
Yes, I abide by taking supplements. Does this constitute popping pills and chugging powder on a daily basis? No. It means once again find out what your goal is and then figure out what brands offer the results that match your goals.
Keeping it Easy to understand.
Mutli's and Protein are a must especially if you train. Pre workouts, a compliment when you Train. And Specialties such as fat burners, stimulants, and others are a choice. When it comes to supplements I make sure that I also give you the information as we see it as far as the efficacy and standards of the brand. One product that I myself and others such as Jim Stoppani and many industry colleagues do in fact use is Concret. Its a creatine supplement that offers none of the bloating but all the other benefits of creatine. Just read the labels and heed to the product information ad warnings of all supplement brands
Is it the only product that I use?
No it is not. The truth is I use a variety of different products and brands. Some I like for different reasons. I'm more or less a Lab Rat when it comes to products. Being in this position has allowed me to supplement and try many different products. I can honestly tell you that there aren't very many Products that I am always taking. Some I have used offer the same results. Little variation between results that one brand offers that the next doesn't is few and far between. Some have better flavor, some a better stimulant factor, some dissolve better than others, some are more expensive than others, etc...You just have to factor in to what matters to you most and go from there.
So Now we get to the Meat and Guts of this whole feature.- What Do I have for you? Well Below I give you a Workout Program, and a Nutritional Meal Plan, rolled into one that will help you Gain Strength (Not mass) and increase your Power. Expect Fat Loss, not necessarily weight loss as you will be building muscle which weighs more than the fat you'll lose. So as always give me feedback and if you have not done so, sign up for the Trainer and get moving on defining a program that does all the work I just discussed above for you.
Take care,
Mike McErlane
Ask Me a Question
Get 35% off Beta-Cret

NUTRITION
7-7:45 a.m.
Coffee, black (optional)
½ scoop (10 grams) whey protein mixed in water
Cardio (on an empty stomach)
MEAL 1: 8 a.m.
4 egg whites plus 4 whole eggs
1 slice low fat cheese
MEAL 2: 10:30 a.m.
2 scoops (40 grams) whey protein mixed in water
MEAL 3: 1 p.m.
½ can light tuna in water
8 oz. low fat cottage cheese
MEAL 4: 4 p.m.
8 oz. chicken breast, grilled
MEAL 5: PRE-WORKOUT 5:30 p.m.
2 scoops (40 grams) whey protein mixed in water
Weight Training
MEAL 6: POST-WORKOUT 6:30-6:45 p.m.
2 scoops (40 grams) whey protein mixed in water
1 medium bagel
MEAL 7: 7:30 p.m.
8 oz. top sirloin steak
MEAL 8: 10 p.m.
1 scoop (20 grams) casein protein
1 tbsp. peanut butter
BEDTIME:
10 grams arginine supplement
Daily Totals:
2,316 calories
356 grams protein
81 grams carbs
56 grams fat
More Articles