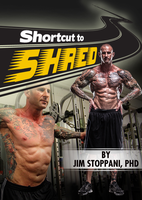 There are few men and women out there that do not wish to be leaner. All of us wish that we could possess impressive muscularity and a ripped set of abs. Yet unfortunately, many find that more difficult to achieve than expected.
While diet and supplements are critical for getting lean and mean, and we've provided you with all you need on that end, training is is very critical component. When it comes to training the truth of the matter is that both weight training and cardio are critical to drop the most body fat in the shortest time possible. Yet in today's fast paced world, who has time to even get to the gym, let alone time to lift AND do cardio?! Luckily there's cardioacceleration!
Sign up below to read the entire eBook!
To get access to YOUR library of workout Manuals Enter your name and email below even if you are already subscribed.
Already downloaded this eBook? Re-enter your information to get direct access to this book.