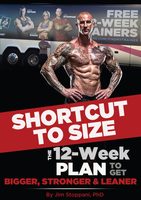 The 12-week program I am about to take you through is based on one of the oldest, tried and true methods for gaining strength and muscle. This type of training has successfully prepared almost every type of athlete imaginable, from Olympic weightlifters to soccer players. It works so well that it has been used continually for decades.
I know that I am best known for my unique exercises and novel training programs, but sometimes you have to rely on the basics. That's especially true when a basic program works as well a this one. Of course, I have taken the basic, but very effective program and tweaked it to perfect it's effectiveness and to maximize the results you get. These results include greater strength, bigger muscles, and less body fat. And I'll teach you how to tweak the program and your diet to maximize either strength and muscle gain or fat loss. But of course, you can also work on all three!
Sign up below to read the entire eBook!
To get access to YOUR library of workout Manuals Enter your name and email below even if you are already subscribed.
Already downloaded this eBook? Re-enter your information to get direct access to this book.