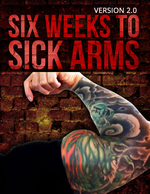 Big arms not only symbolize masculinity, but they're also the most visible body part you have. So it's no surprise that big arms seem to be what every guy, and even many women, want.
Regardless of where you're starting from, this 6-week program will heap a noticeable amount of size onto your arms. Some of you can expect to put on an inch or more on your arms by the end.
Jim Stoppani, PhD
To get access to YOUR library of workout Manuals Enter your name and email below even if you are already subscribed.