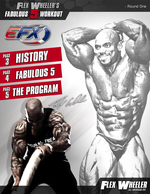 Flex Wheeler is a former IFBB Professional and is known and respected worldwide as one the most accomplished athletes to ever to walk across the competitive stage. Heis on record with the best IFBB Pro debut in the history of the sport of body building.
Flex Wheeler is also listed in the Guinness Book of World Records for his still unmatched victories in the Arnold Classic competition - 4 of them. In fact, Arnold Schwarzenegger had this to say about him, "Flex is one of the best bodybuilders of all time…I've found him to be an extraordinary athlete. He is a winner."
Although he is retired from competition, Flex Wheeler still remains highly active in the industry as a managing partner in the sports nutrition company All American EFX. The company is recognized and respected as one of the fastest growing sports nutrition brands in both the U.S. and internationally.
Sign up below to try Flex Wheeler's Fabulous 5 Workout!
To get access to YOUR library of workout Manuals Enter your name and email below even if you are already subscribed.
Already downloaded this eBook? Re-enter your information to get direct access to this book.