Anthony Diluglio - Training Expert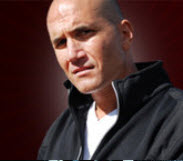 After living and working in Sweden for more than 5 years, both as a personal trainer, conditioning some of Sweden's most elite athletes and as an entrepreneur successfully launching several businesses throughout Sweden all geared towards living and eating healthy, Anthony DiLuglio, now one of America's top personal trainers, headed home to the United States. After 5 years of living abroad he was homesick and ready for a change. Landing in America he was amazed and a bit appalled to see the sorry state of fitness now presiding over the United States, far from the conditions he left behind in Sweden.
With his imposing presence and addictive personality he quickly amassed a client base and set out to change not only their way of training, but also their way of living. Often times acting as trainer, personal chef, therapist and best friend; Anthony worked effortlessly to change the lives of his clients.
In an effort to bring his client's training to a new level, he searched for what he considered to be the missing link in modern fitness, something that would join the gap between what fitness is and what it should be, it was then that he discovered the ancient art of kettlebell training. He knew instantly that this was everything his clients, and he for that matter, were missing. This was going to revolutionize fitness.

Tips to get your question answered:
1) Do not ask the same question to all of the experts
2) Get your friends to vote on your question.
3) The questions with the most votes get answered first
Ask a question!
Answered Questions
more answered questions

Question asked by premium member