A Nice Recipe- Egg Potatoes Au Gratin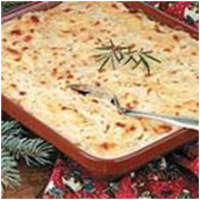 Try this recipe tonight
The simple combination between these ingredients will be so good, it is guaranteed become one of the family's favorite meals!
Ingredients:
- 8 relatively big potatoes
- 5 eggs
- 250 grams sweet cream
- salt
Preparation:
Here's what you have to do: wash your potatoes without peeling them, and let them boil in plenty of water until soft and done. In parallel, boil the eggs for 10 good minutes, making sure they are nice and hard. Cool everything down with some cold water and peel the potatoes and eggs, cutting them in thin, round slices. Take a tray and start building consecutive layers of potatoes, eggs and cream, adding a bit of salt after each layer. Finish it off with potatoes and cream and cook in the preheated oven at 400 F (200 C) for 10-15 minutes.
Nutritional content, per serving:
Calories: 500
Protein: 10
Fat: 35
Carbs: 50
More Articles