Eating For Abs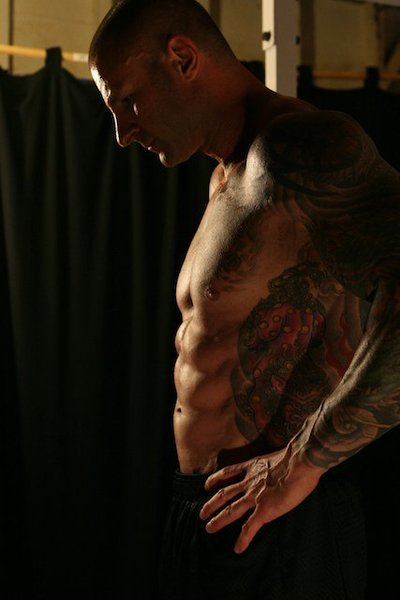 Get shredded for summer with this diet plan
Maximize your Mid Section
The Abs Diet is designed to maximize the amount of total fat lost and especially the fat around the midsection. This is a high protein diet, which is something I always promote, as high protein diets maximize both muscle growth and fat loss. In fact, one study published in the International Journal of Sport Nutrition and Exercise Metabolism reported that subjects eating 40% of total daily calories from protein while following a weight lifting and cardio exercise program lost more than twice as much body fat and more importantly more than twice as much abdominal fat as those eating 15-20% of total daily calories from protein and following a cardio only exercise program. So, as I've always promoted, a high protein diet along with weight training not only helps you gain muscle but lose fat, particularly abdominal fat. So as far as protein goes, this 6-week diet keeps a steadily high protein intake, around 50% of total daily calories.

But that's not all.
Keeping protein high is a good way to shed body fat because it typically means you are replacing some of your carbs with protein. Research shows that higher protein diets significantly reduce hunger, maintain more steady insulin levels (insulin spikes from carbohydrate intake enhances fat storage as most times of day) and raises metabolic rate higher. Also when you replace some carbs with protein, it forces your body to burn more body fat for fuel. The lower you drop carbs the more fat you burn. So to maximize the amount of abdominal fat you are burning for fuel, you will drop carbs very low on Mondays, Wednesdays, and Fridays. Be sure to train abs on these three days to help further reduce the fat from this area. You will also keep carbs low on Sunday. On these days you will eat just about 20% of total daily calories from carbs, or about 0.5 grams of carbs per pound of body weight, that's about 90 grams for the 180 pound bodybuilder. Tuesday, Thursdays and Saturday will be considered your high carb days. Here you'll get about 40% of total daily calories from carbs, or about 1.5 grams per pound of body weight. That's about 270 grams of carbs for the 180 ound bodybuilder. The one problem with low carb diets is that if you go low carb for too long, your leptin levels drop and this drops your metabolic rate. Staggering very low carb days with higher carb days will prevent this from happening and will keep your metabolism revving while maximizing ab fat melting.
Some Useful Tips to Remember

For both low carb and high carb days calories stay about the same, around 14 calories per pound of body weight, or about 2500 calories for the 180 pound bodybuilder. Protein also stays the same regardless of what day it is at about 1.75 grams of protein per pound of body weight, or about 300 grams of protein for the 180 pounder. So you will simply seesaw carbs and fat each day. When carbs are low (Monday, Wednesday, Friday and Sunday) fat increases to 30% of total daily calories with more healthy fats such as peanut butter, salmon, and more egg yolks. When carbs are high (Tuesday, Thursday and Saturday) from mostly slow-digesting carbs such as oatmeal, whole wheat bread and sweet potatoes, fat decreases down to just 10% of total daily calories.
On weekend days, when you are not training, consume your pre and postworkout shakes as snacks on Saturday. On Sunday, drop the preworkout shake and have just the postworkout shake, without the carbs.
Although the sample diets are designed for the 180 pound bodybuilder, they will work well for those between 160-220 pounds. If you are under or over this weight range, use the calories per pound calculations and grams per pound calculations, I give you to determine the amount of calories, protein, carbs and fat you need.
The Abs Diet (Low Carb Days)
This sample diet is designed for the 180 pound bodybuilder as the perfect menu for Mondays, Wednesdays, Fridays and Sundays
Food Cal Prot Carb Fat
Breakfast
4 whole eggs 296 24 2 20
4 egg whites 68 16 0 0
(scramble eggs)
1Tbsp Peanut butter 188 8 6 16
(eat plain on spoon)
Late morning snack
1 scoop Whey Protein 85 20 1 0
1 scoop casein 120 23 4 1
(mix proteins in water)
Lunch
1/2 can white tuna 110 20 0 3
8oz lowfat cottage cheese 163 28 6 2
(mix tuna in cottage cheese)
Mid-day snack
6 oz chicken breast 185 39 0 2
10 asparagus spears 30 3 6 0
Preworkout snack
1 scoop Whey Protein 85 20 1 0
Postworkout snack
1 scoop Whey Protein 85 20 1 0
1 scoop casein 120 23 4 1
(mix proteins in water)
1 med plain bagel 289 11 56 2
Dinner
9 oz salmon 468 51 0 27
1/2 cup mixed veggies 55 2 6 0
Nighttime snack
1 scoop casein protein 120 23 4 1
(mix protein in water)
Totals: 2467 331 97 75
The Abs Diet (High Carb Days)
This sample diet is designed for the 180 pound bodybuilder as the perfect menu for Tuesdays, Thursdays, and Saturdays
Food Cal Prot Carb Fat
Breakfast
2 whole large eggs 148 12 1 10
4 egg whites 68 16 0 0
1 cup cooked oatmeal 130 5 22 2
1 banana 120 2 31 1
Late morning snack
1 scoop Whey Protein 85 20 1 0
1 scoop casein 120 23 4 1
1/2 cup Oatmeal dry 145 6 25 2
(mix protein powders and dry oatmeal in water in blender)
Lunch
6 oz fat-free Turkey breast deli meat 156 33 3 0
2 slices whole wheat bread 140 6 26 2
Mid-day snack
1 cup cottage cheese 163 28 6 2
1/2 cup sliced pineapple 40 1 10 0
(mix pineapple in cottage cheese)
Pre-workout snack
1 scoop Whey Protein 85 20 1 0
1 large orange 86 2 22 0
(mix vanilla protein and orange with water in blender for orange Julius protein shake)
Postworkout snack
1 scoop Whey Protein 85 20 1 0
1 scoop casein protein 120 23 4 1
(mix protein powders in water)
3slices white bread 198 6 39 3
2 Tbsp Jelly 112 0 28 0
Dinner
8 oz chicken breast 246 53 0 3
1 small sweet potato 120 2 26 0
2 cups cooked broccoli 60 6 12 0
Nigtime snack
1 scoop casein 120
More Articles