How is Augmented Reality marketing related to your business?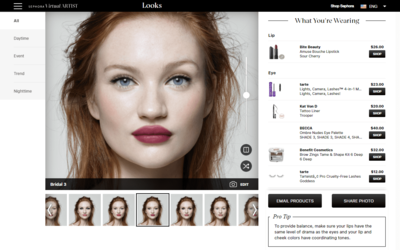 À l'ère numérique, l'efficacité d'un produit ou d'un service ne peut se limiter au strict minimum de fonctionnalités. Pour satisfaire des consommateurs technologiquement autonomes, les concepteurs de produits et services doivent utiliser une interface utilisateur (UI | User Interface) qui leur offre la meilleure expérience utilisateur (UX | User Experience) possible.
Augmented Reality Marketing is a new technique where businesses integrate the advanced AR technology to marketing and sales activities. It is now embraced, in the luxury industry especially, as an efficient tool to enhance the connectivity with their customers and therefore increase online sales.
While people used to walk around in the malls and select a shop that looked the most appealing to them, they are now roaming the webpages and searching the e-commerce sites where they expect to find the best experience.
Similar to the brick and mortar stores, presentation is everything for e-commerce performance. Failure to offer an adequate shopping experience may cause customers to leave within seconds, especially when they have other options available on their fingertips.
In the year 2017, Saetang conducted a study and stated that good user experience would not only encourage the customers to buy the products but also inspire them to recommend the e-commerce site to others 
Hence, it is vital to design your e-commerce site in a way that is not only eye-catching but also offers the best user interaction to provide the optimal customer engagement.
Augmented Reality has been a topic of interest for decades. Berryman stated in her study in 2012, that the term Augmented Reality is said to be first coined by Tom Caudell and David Mizell back in 1990, and the concept of AR is even much older 
As defined by Mekni and Lemieux in their article in 2014, Augmented Reality is the technology that combines the characteristics of both the real and virtual reality and provides an interactive 3D product presentation 
The four main components necessary in any AR setting are displays, input devices, tracking and computers. However, how these components are assembled can vary according to the requirements of the application.
More Articles