SelectTech Dumbbell Product Review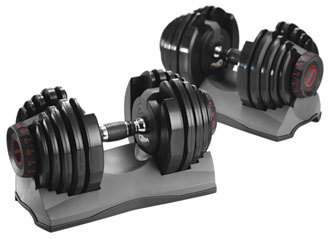 Adding the right dumbbell set to your home gym such as SelecTech dumbbells
Question:
I would like to create a really good home gym but money is a little tight right now. My wife and I have been using the resistance band and ball workouts from your personal training site with surprisingly good results but I'd like to add more to my workouts. I know free weights are important but don't have the money for a large set of dumbbells. What are my options when it comes to an affordable dumbbell kit?
Martin D.
Auburn Hills, MI
Answer:
Thank you for the letter Martin and let me begin by commenting on your phrase "Surprisingly good RESULTS." Many people still are amazed at what you can do with Bands and Stability Balls as long as you have the proper INSTRUCTION as an alternative to the dumbbell. You can mimic an entire group of exercise machines with bands (you can actually make the exercises BETTER). I understand your dilemma, as an in-home Personal Trainer and Consultant in Los Angeles for well over thirteen years, I had to find a way to give my clients great and effective workouts whether we were training in a park or at the beach with no access to traditional equipment.
Problem Solved:
The Bowflex SelectTech 552 and 1090 Dumbbells. These are amazingly useful, look kind of cool (I would always have people come up and ask me about them) very affordable (compared to buying matching dumbbells from 5 to 52.5 pounds) and very effective. The ease at which you can change the weight on the SelectTech's is incredible- just turn a dial! That is right, it's as easy as turning a doorknob. The weight feels like a normal dumbbell should so you don't even know the difference. The selectTechs would be a great addition to the cost weary consumer trying to put together a quality home gym. Keep checking the Amazon.com Personal Trainer website regularly, we are adding a whole NEW area devoted to exercises using at home free weights.
More Articles