Shredded 4 Summer Workout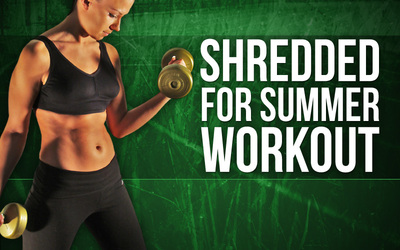 Here is the NUMBER 1 Fat Loss Workout of the Year
The Summer is closely upon us and as things start heating up, you better start thinking about turning up the heat of your workouts in the gym. Every workout program should be intense. I don't care what type of goal you have, if it is not intense, it is not doing you any good.Recent research suggested that combining both cardio and weights together has been shown to be one of the best ways to turn up the intensity of any one program. In some of the findings, strength actually went up as a results of combining cardio with weights.
What do you mean combining cardio with weights?
I am talking about a term I like to use called Iron cardio. It simply means that using traditional exercises you would normally do in a program is only ONE part of the actual workout. During specific times within and following a specific set of exercises I have you doing cardio during the actual weight training.
What type of cardo?
The type of cardio is really up to you, however I would strongly recommend picking one of the below exercises to maximize the IRON cardio Principle I recommend using with this program. Whenever the Program States SHOWTIME HIIT Pick one of the following exercises to do for up to 3 minutes with 30 seconds rest in between each minutes. So its as simple as following the outlined workout and then picking one or a combination of the listed movements below and execute whenever the program dictates SHOWTIME HIIT training. Use 10% of your max weight so the idea is to go very light. Its not about the weight with these movements since it is on timed intervals. Your options for exercises are listed below.
Kettle bell Swing
Step Ups
Hang clean
So unlike the traditional cardio exercises you will actually be doing weight training for your cardio. Alternative exercises CARDIO Only if you simply do not want to use the IRON CARDIO method
Bike
Treadmill
Jump Rope
Burpees
What you will find is a workout that not only kicks you butt, but the amount of load put on the muscles you are working at that time will be unlike anything you have ever felt.This workout in just 4 weeks is GUARANTEED to get you to drop as much as 3% body fat while gaining substantial muscle definition.
Nutrition
The Nutrition is just as important as anything with any Program. The below outlines a daily meal plan to eat every day for 4 weeks. You can make small substitutions or simply use the Nutritional Meal Planner on the site to create your own custom meal plan. However I understand not everyone wants to pay even a small amount for custom nutrition, so that is why I always try to accommodate everyone.These amounts can fluctuate based off of your Male/Female status but I would not suggest going below 1800 calories for women and 2200 for men.
Daily Meal Plan
Breakfast
Blueberries, raw : 1/2 cup : 41 cal
Cream, half and half : 1 Guideline amount per fl oz of beverage : 3 cal
Coffee, made from ground, regular : 12 fl oz : 7 cal
Flax seeds : 1 Typical Serving : 45 cal
Strawberries, raw : 1/2 cup, sliced : 25 cal
Oatmeal, cooked, regular, fat not added in cooking : 1/2 cup, cooked : 73 cal
Banana, raw : 1 medium (7" to 7-7/8" long) : 109 cal
Raisins : 1/2 cup : 218 cal
Yogurt, fruit variety, nonfat milk : 1 Typical Serving : 213 cal
Honey : 1 tablespoon : 64 cal
Calories: 797 Carb=179g Prot=20g Fat=6.5g
Snack 1
Apple, raw : 1 medium (2-3/4" dia) (approx 3 per lb) : 81 cal
Popcorn, air-popped (no butter or no oil added) : 2 cup, popped : 61 cal
Orange, raw : 1 medium (2-5/8" dia) : 62 cal
Calories: 204 Carb=49g Prot=3.4g Fat=1.3g
Lunch
Cucumber, raw : 1 cup, sliced : 14 cal
Pepper, sweet, red, raw : 1 Typical Serving : 20 cal
Orange, raw : 1 medium (2-5/8" dia) : 62 cal
Turkey sandwich, with spread : 1 sandwich : 330 cal
Almonds, unroasted : 1 Typical Serving : 165 cal
Spinach, raw : 1 cup : 7 cal
Calories: 597 Carb=56g Prot=38g Fat=27g
Snack 2
Carrots, raw : 1/2 cup, strips or slices : 26 cal
Celery, raw : 1 medium stalk (7-1/2" - 8" long) : 6 cal
Hummus : 2 tablespoon : 51 cal
Calories: 84 Carb=14g Prot=2.4g Fat=2.7g
Dinner
Black, brown, or Bayo beans, dry, cooked, fat not added in cooking : 1 Typical Serving : 99 cal
Avocado, raw : 1/2 avocado, California (black skin) : 139 cal
Salmon, baked or broiled : 1 Typical Serving : 146 cal
Sweetpotato : 1 Typical Serving : 152 cal
Lettuce, salad with assorted vegetables including tomatoes and/or carrots, no dressing : 1 side salad : 28 cal
Asparagus, cooked, from fresh, fat not added in cooking : 1 Typical Serving : 21 cal
Calories: 584 Carb=62g Prot=34g Fat=25g
Snack 3
Almonds : 1 oz (22 whole kernels) : 167 cal
Calories: 167 Carb=5.8g Prot=5.7g Fat=15g
Total Calories: 2434 Carb=365g Prot=103g Fat=77g
Week 1
Day 1
Day 2
Day 3
Day 4
Day 5
Day 6
Week 2
Day 1
Day 2
Day 3
Day 4
Day 5
Day 6
Week 3
Day 1
Day 2
Day 3
Day 4
Day 5
Day 6
Week 4
Day 1
Day 2
Day 3
Day 4
Day 5
Day 6
More Articles