The No-Bake Protein Bar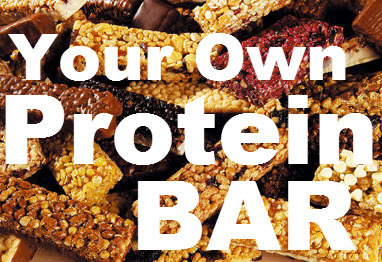 A Great way to make your own Protein Bar solution.
No-bake Protein Bars
This wheat-free recipe is a great addition to your refrigerator! Keep on hand for a sweet treat or an on-the-go snack; the combination of peanut butter and chocolate will keep you coming back for more!
1/2 cup oat flour
5 scoops chocolate whey protein powder
1/4 cup peanut butter
1 cup nonfat powdered milk
2 Tbs flaxseeds
1 Tbs vanilla extract
1/2 cup water
1/2 cup dark chocolate chips
Mix together oat flour (blend oats to make powder if needed), protein powder, powdered milk, and flaxseeds. In smaller bowl mix peanut butter, vanilla, and water. Add wet mixture to the dry mix and stir to make dough. Mix in chocolate chips. Spread mixture into greased pan. Freeze for an hour or refrigerate for four hours before cutting bars. Makes 16 bars.
Approx per serving~ 120 cals, 5.3g fat, 10g pro, 10.5g carbs, 2g fiber
Mike's Suggestion for Other Industry Bars
If you have not heard yet, there is a new bar on the market called the Nogii bar by Elizabeth Hasselbeck. Its a Gluten Free Bar and I have to say, it's one of the Best Bars I have tasted. Not chalky, and doesn't have that texture that most Protein Bars do. Honestly I went through 3 of them at once because they were so good.
Try the Nogii bar Now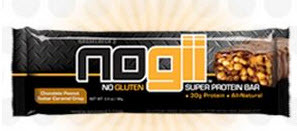 More Articles