What is step and repeat banner?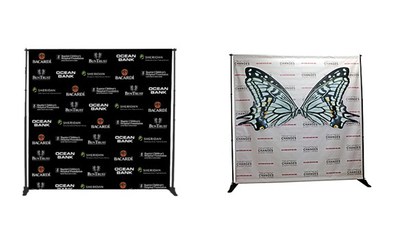 What is step and repeat banner?
Generally you must have seen those backdrops with logo (background) behind celebrities in pictures at award functions or red carpets and other events. Well! These backdrop you would have noticed many times are known as- Step and Repeat Banner. As the name describes itself, it is a large printing format where a particular logo or print is inscribed repeatedly in the form of blocks.
Now if you want to understand it in marketing specific terms then it is certainly the affordable product to enhance your brand's awareness at an event. To actually make it recognizable (for new brands or business) among the target audience, it is an apt choice. In fact this format can be suitable at many different platforms that may include print media coverage of an event (newspaper, magazine) to web world or social media like Facebook or Instagram.
The use of step and repeat backdrop for an event, can give your brand a big exposure, specially all the event photos are clicked with this backdrop behind the guest, now other than the event coverage, these images are also shared by guest and other people on Facebook and other social platforms cannel, making your brand be exposed to hundreds and thousands of new potential customers on the net.
These Step and repeat banner can also be used at multiple occasions and array of events.
Product launch events
Award ceremonies
Conventions
Grand openings
There are many other events where this banner can provide your company and brand a distinct identity. However, it will be more noticeable to the visitors, audience or target group of people.
Now the foremost thing to know about is- How Much Will It Cost?
Well! No one can definite the price. The price of every product or print varies according to the particular required size. Here are the factors that determine the price of your ordered banner
Size of banner
Accessories required or asked
What really matters while buying a Step and Repeat Backdrop?
There are certain factors to determine the appropriate Step and repeat banner for your business. Remember your business needs and get the most suited banner site fulfilling your optimum requirements, for event photo coverage.
Size: Let's discuss the right size for your needs. Actually! The standard size of this backdrop is 8'x8"but based on your need you can also go for 8x10 ft. and 10x10 ft. Let's see the suitability of wide and small step and repeat banner or backdrop:
Wider step and repeat:
They are certainly the wow factor of any entrance
They enhance the visibility of your brand among others
You will hardly see the edges of the backdrop in images
Smaller step and repeat:
Highly portable in comparison to large backdrops
Ideal for booth background in any event
There are more affordable
Logo: Remember! It is true that the logo must be small enough to fit in the step and repeat print but at the same time it should be easily understandable and readable. Generally the logos are 9 to 11" wide and 5-7" tall. This size is repeatedly printed on the entire banner or backdrop.
Color: We would suggest you to opt for grey ink than bland white vinyl. The key reason for such suggestion is that color/ ink are less reflective than white vinyl. This is the reason why generally the customer requests grey ink on vinyl. However, when in pictures it still looks white but there won't be light reflection to spoil the picture effect.
Ease of Assembly: Generally, it's you who has to manage the entire thing on your own. So, it is better to opt for the solution that is easy to assemble. At least, it would save your extra efforts and time. So, it is recommended to consider the quality and ease of assembly for backdrops.
Portability: This is again the major concern in terms of saving additional efforts and care for the product. You can opt for case or something relevant to keep your backdrop wrinkle-free and absolutely clean. Most of all, if your product is portable enough to carry then certainly you don't have to depend upon someone else.
Basically, you should keep minute things in mind while ordering the step and repeat banners or backdrops. Once, you order an apt product with suitable material (vinyl or fabric) and quality print; you will definitely be able to attain the desired outcome. To place the order for such exclusive stuff you can opt for some of the most trusted online service provider like.
More Articles