Fat Loss HIIT Program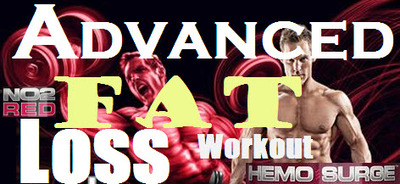 Here is a 2 week advanced Fat loss Workout
This Program was designed for the advanced lifter or fitness enthusiast who is striving to lose weight and build muscle.
Losing Weight and building muscle go hand in hand. The ideal way to do so of course is manage your nutrition correctly, but the type of training program you execute has dramatic influence over your success. This Plan is just the prescription for those of us who want to burn the calories and the fat while building muscle.
One of the many benefits of HIIT is that it keeps you going the entire time you are training. You will get more out of the time spent in the gym without the rest periods being used up to chat or sit and stare at the clock. HIIT training is essential for those of us who are serious about losing fat FAST and building muscle. The one drawback to HIIT Training is only the fact that if you are looking to dramatically increase your strength and push MAX weight for each rep, it probably isn't for you. The reason is because executing HIIT training requires short rest periods and sometimes almost none. When you are looking to push for heavier weight, you need optimal 90-120 rest periods in between sets. HIIT Training is usually performing higher reps than you normally would if you are looking to push higher amounts of weight. Repeat the workout again in weeks 3 and 4 increasing the weight the final 2 weeks.
Nutrition is Key for this Plan as the calories do have to be enough to give you the energy to keep you going and be able to get through an entire workout session. The Below Nutrition Plan is outlined to help give you the fuel needed to finish each program strong. I highly recommend utilizing the recommended supplements as a way to help push through as well. With HIIT, the workouts have to be obviously intense enough to have your heart rate continuously spiked, but your body has to have enough fuel to sustain the energy expenditure. When you are trying to lose weigh the goal is to burn more calories than you consume. This is why to help overcome the grey area of sustaining energy throughout a workout we supplement Protien, BCAA's, and other sports nutrition products into each of our plans. There are many proteins, amino products, pre workout etc out on the market that are made available to us. Of course we all have our favorites. For this plan we got together with Team MRI to help give a recommended stack listed below.
Take care guys,
Mike McErlane
The Nutrition-
Milk, calcium fortified, cow's, fluid, skim or nonfat : 1 cup : 86 cal
Oatmeal, cooked, regular, fat not added in cooking : 1-1/2 cup, cooked : 218 cal
Egg, white only, cooked : 3 white : 49 cal
Banana, raw : 1 medium (7" to 7-7/8" long) : 109 cal

Calories: 462 Carb=79g Prot=29g Fat=4.6g
Cheese, cottage, lowfat, low sodium : 2 cup : 325 cal
Flax seeds : 1/2 Typical Serving : 22 cal
Pretzel, hard, multigrain : 9-1/2 pretzel (Include nuggets) : 107 cal

Calories: 455 Carb=36g Prot=60g Fat=6.9g
Spinach, raw : 2 cup : 13 cal
Carrots, raw : 6 thin strip or stick : 5 cal
Rice pilaf : 3/4 cup : 194 cal
Fish, NS as to type, baked or broiled : 1 fillet (6-1/4" x 3" x 3/8") : 143 cal

Calories: 356 Carb=37g Prot=30g Fat=9.3g
Apple, raw : 1 large (3-1/4" dia) (approx 2 per lb) : 125 cal
Almonds : 1/2 Typical Serving : 82 cal

Calories: 208 Carb=35g Prot=3.2g Fat=8.1g
Fajita with chicken and vegetables : 2 tortilla : 726 cal

Calories: 726 Carb=89g Prot=40g Fat=24g
High protein bar, soy base : 50g : 229 cal

Calories: 229 Carb=23g Prot=9.9g Fat=9.5g
Total Calories: 2435 Carb=298g Prot=172g Fat=62g
Remember if you are interested in more custom programming login and or create your own custom plan if you have not done so and find your custom workouts in the workout tab at the top. Good luck and give us feedback.
More Articles