Ladies Looking for Rock Hard Buns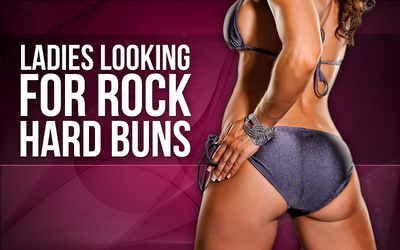 For the Women who want a Rock Hard Booty!
The one area I ALWAYS get requests from when it comes to women, as to the particular part they want to tone and firm up, is, well, you guessed it, the BUTT. Let's not be PC here, the butt is of course, a focal point for just about every woman out there looking to get into shape. Doesn't it make you feel good knowing that you have a nice rear? Of course it does, and I will review a few things that perhaps can help aid in your quest for the tone backside.
First, forget the common mistake thinking that all you have to do is cardio to get a nice looking butt, or the stair master. This is the one area that is made up of mostly muscle, so the solution is to work it to its rock hard potential. Cardio does nothing to tone the butt because very low stress is applied to this area. After all, the name is GLUTEUS MAXIMUS for a reason. It's the Gladiator muscle which can be worked to extent, and needs to be worked in order to look its best.
Forget thinking that if you lift heavy and stress yourself that you will get big and bulky. Women are estrogen based creatures, while Men are Testosterone. Testosterone is the primary hormone responsible for muscle growth, so if you are not taking something to increase your testosterone, then don't worry about looking like the boys when you train.
Lets cover the basics of what you need to do. First of all, you must understand that with ANY goal or particular body part you want to train, you should not focus ONLY on that one particular area when you do train. You have to do a complete Program with the emphasis put on that one area, but the Training Program must cover everything the body needs. Its a machine, so when everything is moving in sync, you get the best results. Think of driving a car. If you want to go fast, of course the emphasis is to depress the accelerator, but you still have to steer the wheel and shift the through the gears right? The body works the same way. If you want to tone the butt, you still have to work the other areas as well for best results.
So hear are some exercises that predominantly focus on the butt with a COMPLETE workout Program listed below. Leave me feedback and share this with your friends and family if they are in need as well. As always, I appreciate you using the workouttrainer.com system and if you have not done so yet, start following the actual recommended programs that I write once you have singed up as a free member, and if you want more there is an optional upgrade for $10 to help me keep the lights on here. :-)
Take care,
Mike McErlane
The Program
Day 2
Day 3
Day 4
Day 5
More Articles