One Tough Workout #2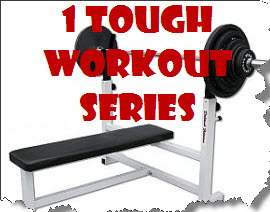 One tough Workout #2. The 5 day 4 week Thriller Workout.
Once again we want to post #2 of our One tough Workout Series. This 5 day 4 week plan is designed to kick your A$$. With combining sports specific movements and power movements such as plyos, Olympic exercises and standard bodybuilding movements, overall your gonna get results. Don't waste any time as this program will take longer to finish especially the first week while getting used to the new regime.
VIDEO INTRO