Pump Up The Volume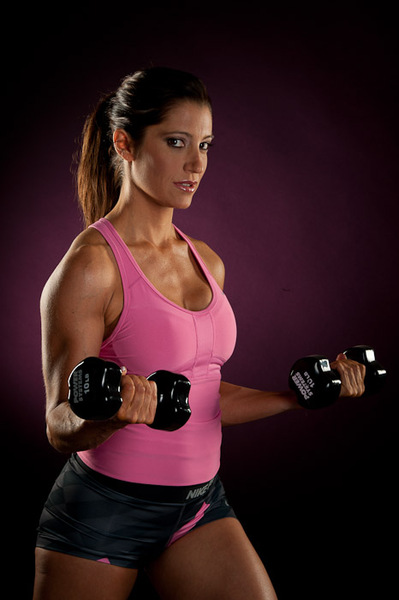 Pump up your workout with Lisa Robins
Team SCI-FIT
In case you haven't heard the news… There is no time for skinny arms and flat glutes! Girls, let's get honest; the "waif" look is OUT. Strong, confident and curvy is IN! Let's make this hot image reality by turning-on some muscle-building workouts head-on that will simultaneously sizzle fat. In other words, skip your date on the treadmill and try this workout to promote lean and sexy muscle shape, as your heart goes pitter-pat.
TRAINING TIP:
Plan on attacking 3-4 sets of each exercise below. Begin with completing 10-repetitions during week-one, 15-repitions during week-two, and completing as many repetitions you can handle until failure on week three. If you plan on doing this workout a few times per week, stagger it, so you never complete this screaming challenge on consecutive days. It is crucial to have at least 48-hour rest between this workout to promote positive body change, as well as provide adequate recovery for muscle to rest.

TARGET ZONES:
Shoulders
Back/ Biceps
Quads
Glutes/ Hamstrings
Abs


EQUIPTMENT:
Dumbbells
Adjustable bench and/or Step platform
Medicine balls
Kettle bells
SECRET WEAPON:
SCI-FIT® DARK ENERGY™
SCI-FIT® Dark Energy is a powerful pre-training dietary supplement which can provide an incredible sensation of focus, drive, energy & motivation. In addition, it allows for rapid increases in strength, power & endurance. Dark Energy is engineered with Sci-Fit's Revolutionary PH Fusion Technology™, which provides increased potency through rapid absorption and PH stability. Drink this pre-workout formulation about 30-minutes before your workout. Not only will it keep you energized and focused to make it through any challenging workout, but the cell-volumizing complex will "fire-up" and pump your muscles to perfection…Watch out!
WORKOUT:
REVERSE LUNGES OFF A STEP
SET UP: Stand on the step that is a few inches off the floor and hold a pair of dumbbells in each hand.
EXECUTION: Step backwards off the step into a lunge position. Your back knee should touch the floor and your front thigh (and knee) should be parallel to the floor. Focus on completing one leg at a time and then repeat repetitions on the opposite side.

KETTLEBELL SWING
SET UP: Stand shoulder width apart with a kettle bell with both hands.
EXECUTION: Bend forward at the hips letting the weight fall in between your legs. With momentum, exhale and wing the kettle bell to shoulder height, lower and repeat.

DUMBBELL DEAD LIFT OFF A STEP
SET UP: Stand shoulder width apart on a step that's a few inches off the floor and hold a pair of dumbbells in each hand in front of your thighs.
EXECTITION: Bend forward and tip at the waist with your hips tucked while keeping your lower back and abs tight. Squeeze your glutes and slowly stand back up.

ALTERNATING DUMBBELL SHOULDER PRESS
SET UP: Stand shoulder width apart and hold a pair of dumbbells in each hand at shoulder level.
EXECUTION: Press up with 1 weight over your head and lower it as your press up with the other one while maintaining strong a stable posture.

MEDICINE BALL ABDOMINAL POP-UP
SET UP: Lie on an adjustable bench set to decline, facing upwards.
EXECUTION: Hold the medicine ball over your chest, exhale and sit-up as you shift the medicine ball over your head. Lower and repeat.
DUMBBELL ROW
SET UP: Stand with legs shoulder-width apart, holding a pair of dumbbells in-hand. Keep your arms straight and bend forward facing 45 degrees angle down facing the floor.
EXECUTION: Pull both elbows upwards, as you simultaneously squeeze your back and you maintain a strong, neutral back. Lower and repeat.
WEIGHTED WALKING LUNGES
SET UP: Stand tall with dumbbells in hand, heels stacked under hips.
EXECUTION: Step forward and long with the right leg, as you lower your left knee to the floor creating a 90-degree angle in both legs. Push off your right heal and lift the left leg in front, as you continue to walk forward and lunge on the opposite leg. Continue pattern and repeat.
ALTERNATING DUMBBELL CURL
SET UP: Stand tall, legs shoulder-width apart, with dumbbells in each hand at your side.
EXECUTION: Lift one arm up and lower as you simultaneously lift and curl with the opposite arm. Focus on keeping your elbows close to your sides, rotating your wrists outward as you squeeze your biceps.



More Articles