Workout Solution Without the Gym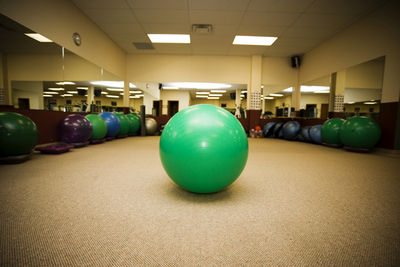 What do you do on the days you cant get to the gym?
With the hectic schedules we all face today, getting to the gym on a daily basis can be quite a task. Some of us have children, jobs, and other things that have us stressed with an overwhelming amount of responsibility and time becomes lost with handling it all. Getting to the gym almost becomes a luxury just to de-stress a bit.
So what do you do and how can you still get results when training with a sporadic schedule?
Rather than uncovering the dumbbells in the garage or out on the porch all you really need is a set of Bands and a stability ball. If you notice when you login or sign up for the Trainer you have different workout categories listed when you click Workouts at the top of this page. One of the categories is ball and band ONLY workouts. I specifically wrote these plans because i wanted to give those of us who dont always have the luxury of getting to the gym, never having one around the ability to still get amazing results with just 2 pieces of equipment that didn't take up an entire room.
These plans utilize every movement you would be able to perform in the gym with a room full of machines, dumbbells and or barbells, but require just a little more thought on how to do them and set things up. In the below program I give you a great routine to try for yourself but I would encourage you to login and or create your account with the Trainer to see what other workouts are listed. There is an optional upgrade but the plans and programs you can still print out and download for free. BTW- If you want a set of the bands click over to the right on the band image.
Listing the benefits
Benefit Elastic Resistance Free-Weight Resistance
Provides progressive resistance • •
Allows free movement • •
Allows variable speed of movement • •
Increases muscle strength • •
Increases muscle size • •
Decreases body fat • •
Provides resistance in multiple directions •
Provides variable resistance •
Provides constant tension •
Prevents cheating •
Inexpensive •
Easy to store •
Easy to transport
•


I have preached the benefits of bands in many of my Workout 101 videos discussing the biomechanical and functional benefit they provide in achieving your goals, but never really discussed the more obvious benefits. So below I give you a plan that has all the benefits above worked into a full program. Of course a program would not be complete without a nutritional Meal plan and a recommended supplement stack and offer for you all.
Here is the Nutrition
Egg, white only, cooked : 2 white : 33 cal
Oatmeal, cooked, regular, fat not added in cooking : 3/4 cup, cooked : 109 cal
Coffee, NS as to type : 1 small pot (20 FO, 4 servings) : 14 cal
High protein bar, soy base : 1/2 Typical Serving : 162 cal

Calories: 318 Carb=39g Prot=19g Fat=8.5g
Apple, raw : 1 large (3-1/4" dia) (approx 2 per lb) : 125 cal
Cheese, cottage, lowfat, low sodium : 2 cup : 325 cal
Banana, raw : 1/2 medium (7" to 7-7/8" long) : 54 cal
Wheat germ, plain : 1 Typical Serving : 214 cal

Calories: 719 Carb=86g Prot=73g Fat=12g
Tomatoes, raw : 2 small whole (2-2/5" dia) : 38 cal
Rice, white, cooked, regular, fat not added in cooking : 1/2 cup, cooked : 102 cal
Fish, NS as to type, baked or broiled : 3-1/2 oz, boneless, cooked : 126 cal
Banana, raw : 1/2 medium (7" to 7-7/8" long) : 54 cal
Yogurt, plain, nonfat milk : 1 8 oz container : 127 cal

Calories: 447 Carb=62g Prot=39g Fat=5g
Almonds : 1/2 Typical Serving : 82 cal

Calories: 82 Carb=2.9g Prot=2.8g Fat=7.3g
Carrots, raw : 6 thin strip or stick : 5 cal
Spinach, raw : 2-1/4 cup : 15 cal
Chicken, boneless, NS as to part, broiled, light or dark meat, skin not eaten : 2-1/2 thick slice (approx 2" x 1-1/2" x 3/8") : 99 cal
Tortilla, flour (wheat) : 1 tortilla (approx 5" dia) : 55 cal
Wheat germ, plain : 1 Typical Serving : 214 cal

Calories: 388 Carb=41g Prot=35g Fat=11g
Total Calories: 1954 Carb=231g Prot=169g Fat=44g
Here is the Supplement stack and promotional offer
As always appreciate all the feedback and if you have not done so login or sign up to create your own account to get your own custom workouts like the one below. There is an optional upgrade that gives you additional features, but all the workouts in the members area are free to view, print or download. Take care and good luck
Mike McErlane
More Articles